In recent builds of Firefox Nightly, you can find a new feature called Firefox Screenshots. It will allow you to capture a visible portion of an opened page or the whole page including the portion which is not visible without scrolling. With a single click, you can upload your screenshots and get a link to share with your friends.

RECOMMENDED: Click here to fix Windows errors and optimize system performance
The ability to capture screenshots is not a new feature of Firefox. Some time ago, we covered the ability to take a screenshot with a special browser command. Refer to the following articles:
Mozilla, the developers of the browser have finally added a useful user interface for that feature, so it is not required to type commands any more. They added a new button to the command bar, so a screenshot can be captured with one click.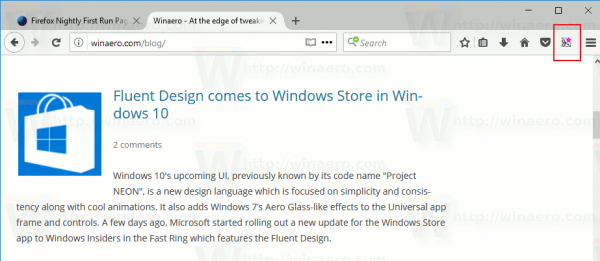 Click the button. A small introduction will appear: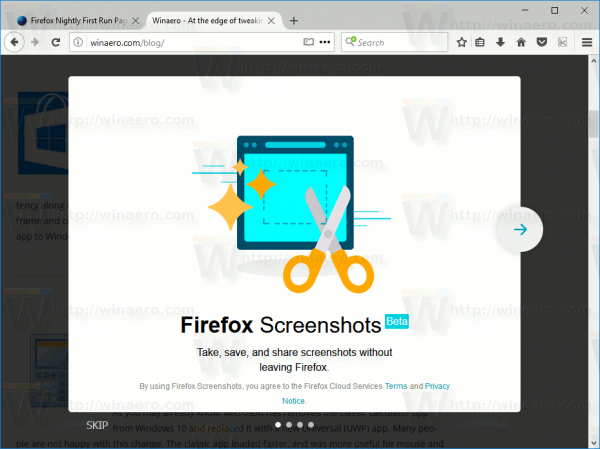 Then the following user interface will appear on the screen.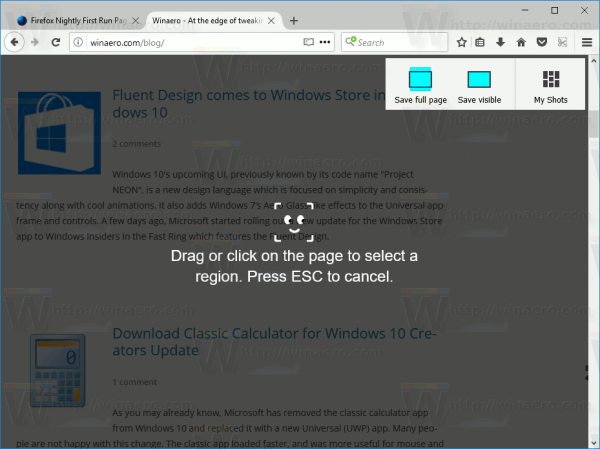 You can choose between "Save full page" and "Save Visible" options.
After that, you can save your screenshot locally or upload it online to the screenshots.firefox.com web site.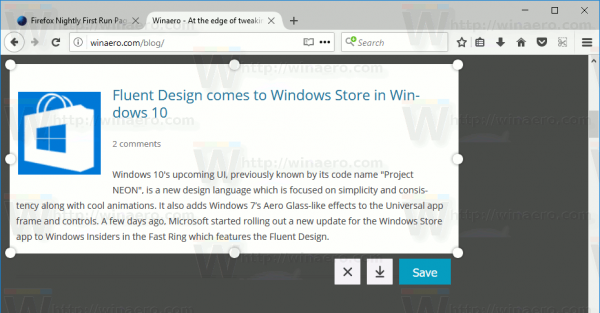 Once a screenshot is uploaded online, you can get its link and share it with your friends via any messenger, on Facebook or via email.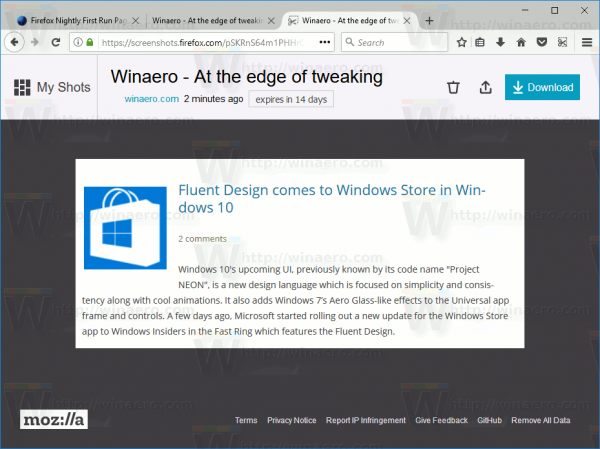 The My shots button will allow you to access your previous captures.
On the screenshots.firefox.com web site, you can adjust the expiration time for your screenshots or delete them instantly.
While the screenshots feature is not new to Firefox, I like the idea with the screenshot upload ability. It is really time saving and useful. Once this feature reaches the stable version of the browser, it should be welcomed by most users.
What about you? Do you like Firefox Screenshots integration with the browser? Tell us in the comments.
RECOMMENDED: Click here to fix Windows errors and optimize system performance