The team behind the most innovative Vivaldi browser released a new snapshot of the upcoming version of the app. Vivaldi 2.3.1430.4 allows including frequently visited pages in the URL drop-down list of the address bar. Also, you can set a custom name template for your screenshots.
RECOMMENDED: Click here to fix Windows errors and optimize system performance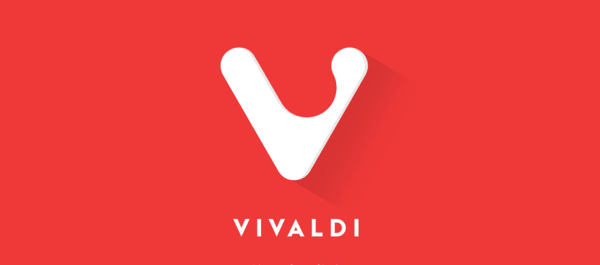 Vivaldi was started with the promise of giving you a highly customizable, full-featured, innovative browser. It looks like its developers kept their promise - there is no other browser on the market which offers the same amount of options and features. While Vivaldi is built on Chrome's engine, power users are the target user base, like the classic Opera 12 browser. Vivaldi was created by former Opera co-founder and developed keeping in mind Opera's usability and power.
Frequently visited pages in the URL drop-down list of the address bar
There is a new option in Settings > Address bar. Under Address Field Drop-Down Menu, you can enable Including Frequently Visited Pages.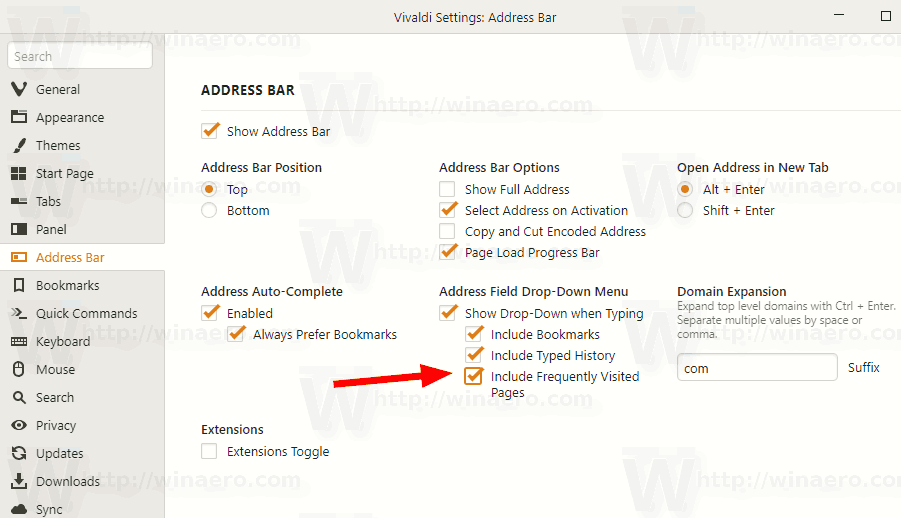 Here is the default URL drop-drown list.

This is how it looks after you enable the option.

Custom screenshot file name
To set a custom screenshot file name template in Vivaldi 2.3, open its settings, and go to Webpages > Image Capture.
There, you'll find a new text field Capture File Name Template that you can use to set the desired template for your screenshot file name. In addition to letters and digits, you can use a number of variables, including Long Date, Year, Hour, Minute, Second, Unique ID, Host Name of the active tab, and more.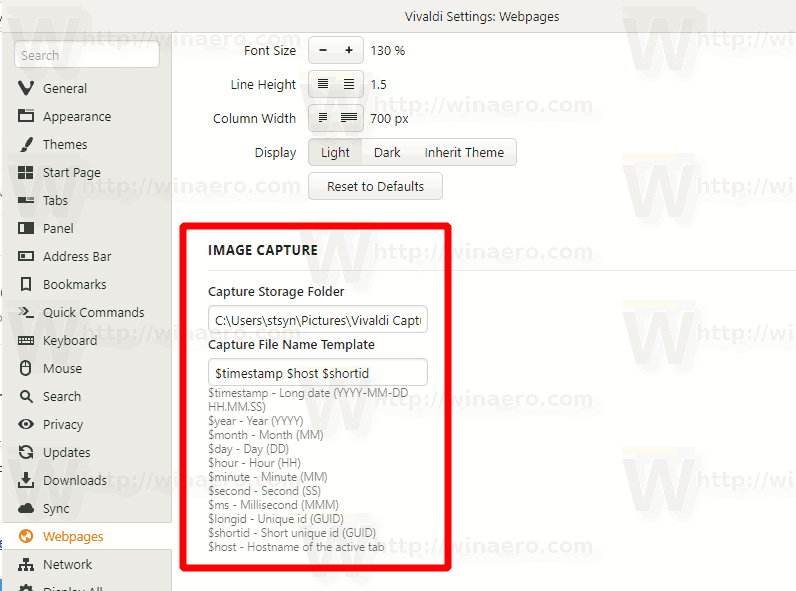 You can get Vivaldi 2.3.1430.4 using the links below.
Download Vivaldi
The complete Change log
[New] Add an option to show frequently visited pages in the URL Drop-Down: "Settings → Address bar → Address Field Drop-Down Menu → Include Frequently Visited Pages" (VB-3533)
[New] Custom screenshot file name (VB-31991)
[Regression] [Mac] Ctrl+Left Mouse Down doesn't trigger a context menu (VB-45970)
[Regression] Cannot remove last speed dial folder (VB-48264)
[Regression] Crash when a exiting after an extension popup has been shown (VB-48139)
[Regression] Chrome native start page appearing before fresh page load (VB-47977)
[Regression] Grey window in moving a tab to a new window and back (VB-48042)
[Regression] Minimizing while maximized bugs out maximized state (VB-47470)
[Regression] Moving tiled tab stack back and forth multiple times triggers crash (VB-46032)
[Regression] Specific Home Page Lost on Changing Setting to Start Page (VB-47249)
[Regression] Status bar popups does not close (VB-48000)
[Regression] User cannot go back to day/week view in vivaldi://history once month view is selected (VB-47700)
[Windows] All-users install does not use installed language/locale (VB-47569)
[Windows] Twitch.tv process crashes after a little while with HWA disabled (VB-30760)
[Mac] Clicking a certain extension icons makes Vivaldi crash (VB-44298)
[Mac] Impossible to do live video on Facebook (VB-45131)
[Settings] Add ability to search for search engines (VB-35583)
[Settings] Homepage input scheme resets to http (VB-35520)
[Speed Dial] Cannot add file:// URL to Speed Dial (VB-19722)
Allow right-button and Alt-key mouse gestures to be independent (VB-46727)
"Always Save Files to Default Download Location" setting option looks inconsistent (VB-47474)
Download panel does not respect ordering on initialization (VB-47985)
History calendar view cut off (VB-41526)
Official Chrome API chrome.extension.getViews({ type: 'popup' }) doesn't work (VB-46910)
PageUp/PageDown and arrow up/down does not work after opening in new tab (VB-48133)
Reader view button moves the address field dropdown button: thanks John from Australia (VB-47968)
Re-ordering a tiled tab with internal PDF reader reloads example PDF (VB-48266)
Tab in background window closed with mouse gesture over visible tab in another window (VB-47721)
Unable to scroll PDF up/down with keyboard after clicking "Fit to page" (VB-44083)
Upgraded Chromium to 72.0.3626.55
Source: Vivaldi
RECOMMENDED: Click here to fix Windows errors and optimize system performance