Developers of the innovative Vivaldi browser today released a new snapshot of their product. The snapshot 1.7.735.29 from the development branch represents the upcoming version 1.7. This snapshot of version 1.7 comes with a new feature - the History panel.
RECOMMENDED: Click here to fix Windows errors and optimize system performance
The new history panel provides convenient access to your browsing history, shown alongside the pages you are currently viewing. The user interface of this feature reminds the history panel of the good old Opera 12.x browser. It has a couple of options to quickly search some URL in the history. The panel comes with the the date range option and the search box above the URL list.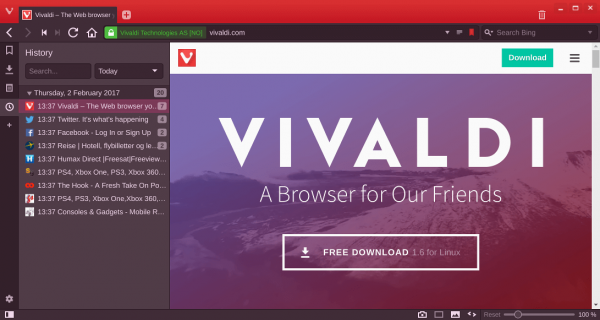 Besides this change, the browser now shows a new "Not Secure" badge in the address bar for web sites which have no HTTPS for a web form which accepts a password.

Download links for Vivaldi 1.7.735.29 are as follows.
The complete change log can be found in the official announcement.