If you are using the SMS Connect feature in Skype, you will have to switch to the Your Phone app after August 30, 2019. Your Phone will remain the exclusive consumer software to text from your PC.
RECOMMENDED: Click here to fix Windows errors and optimize system performance
A new announcement on Microsoft's web site explains the move.
After limited availability, we decided to remove SMS Connect functionality from Skype. SMS Connect will no longer be available after August 30th, 2019 but don't worry, you can still find all your individual SMS conversations with full history on your phone.

If you want to continue reading and replying to SMS messages from your computer and you're using Windows 10, we recommend you install and start using the Your Phone app from Microsoft. With this app, you can send and receive SMS or MMS messages, share photos between your phone and computer and more. The Your Phone app is continuing to evolve so stay tuned for more feature updates.
Skype users who use the feature are already receiving notifications right in the app.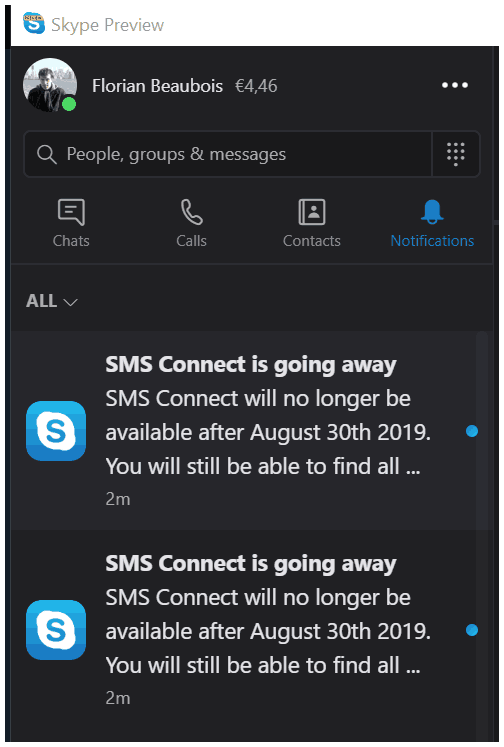 Your Phone is a built-in Windows 10 app which was first introduced during Build 2018. The app is intended to allow users to sync their smartphones running Android or iOS with Windows 10. The app allows syncing Messages, Photos, and Notifications with a device running Windows 10, e.g. to view and edit photos stored on your smartphone directly on the computer.
There is one problem with this change. As you may know,  Your Phone is an exclusive Windows 10 app, which requires a Companion app available for Android. SMS Connect is a cross-platform solution which it is not limited to Windows devices. The SMS Connect was implemented as a replacement for the SMS Relay feature which was previously available in the Skype Store app for Windows 10.
According to the company, users will be able to use their Skype credit/money to send SMS from Skype after August 30, so this feature will remain available.
More details can be found HERE.
RECOMMENDED: Click here to fix Windows errors and optimize system performance