Windows 10 Creators Update got an updated user interface for personalization and appearance. Now, not only can colors and the desktop background be managed from the Setting app, but changing the theme is also possible. If you have customized your PC's appearance, you may want to save it as a *.deskthemepack file to use it on another PC or share the deskthemepack file with a friend. Here is how it can be done in Windows 10 Creators Update.

RECOMMENDED: Click here to fix Windows errors and optimize system performance
Windows 10 Creators Update allows you to customize the appearance of the operating system using Settings. In the Personalization section, there are pages with options to change the color of the window frame (the accent color), the desktop background, disable or enable taskbar transparency and a number of other options. Once you have customized the look of your Desktop, you can save it as a theme and then share the themepack file with your friends.
To Save a Theme as Deskthemepack in Windows 10 Creators Update, do the following.
Open Settings and click on the Personalization icon.
There, apply the desired appearance changes. It might be useful to refer to this article: Change Theme and Appearance in Windows 10 Creators Update.
Then go to the page Personalization -> Themes.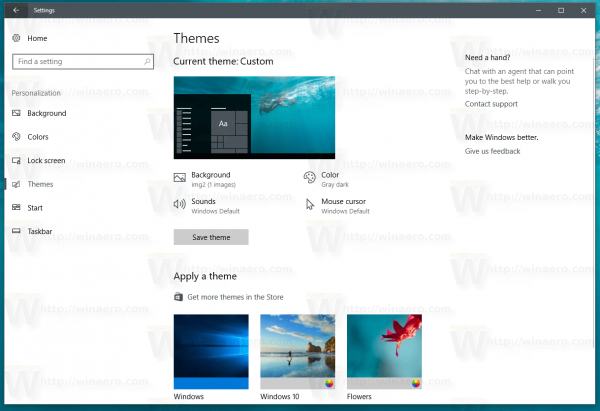 Notice the "Theme: Custom" text which indicates that you have appearance options which have been customized and are unsaved. Now you need to save the theme. Refer to the article "How to Save a Theme In Windows 10 Creators Update". In short, do the following: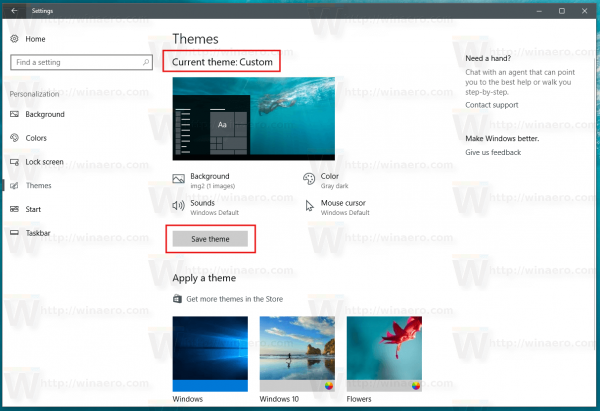 Click the Save theme button to save the theme. When prompted, type the desired theme name. This name will be displayed in the theme list.
Now, you can redistribute your theme as *.deskthemepack. To save a theme as a deskthemepack file, right click the desired theme in the list and choose Save theme for sharing from the context menu.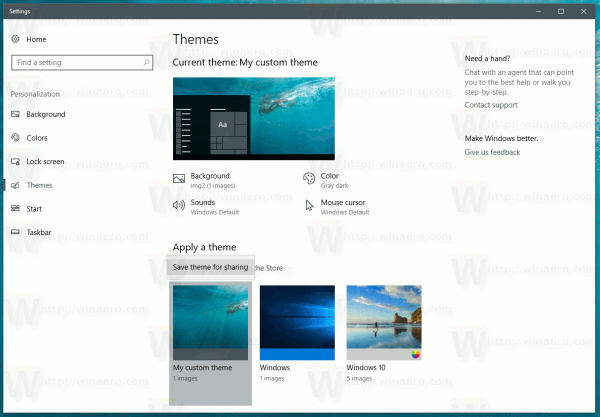 In the next dialog, specify the deskthemepack file's location and its name.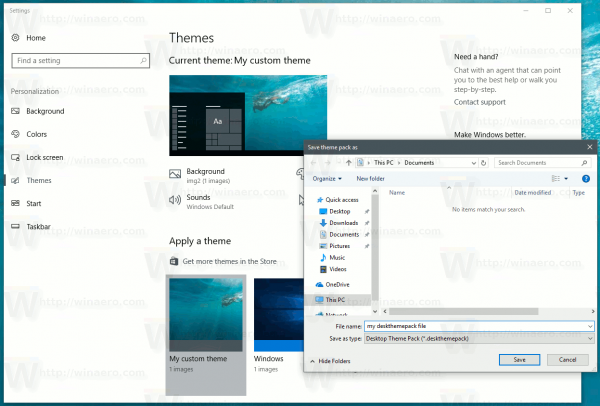 That's it. You just created a new deskthemepack file in Windows 10 Creators Update.
Windows 10 Creators Update, known as version 1704, is a feature update to Windows 10 which brings a lots of the user interface changes to the operating system. It adds the ability to install themes from the Store and many other new appearance options. For example, it keeps four recent accent colors you used in your account and allows you to define a custom color for windows, the taskbar and the Start menu. These changes are welcomed mostly by touch screen users, because the Settings app is more useful on such devices than the classic Personalization options of the Control Panel. Windows 10 Creators Update (version 1704) is expected to be released in April 2017.
RECOMMENDED: Click here to fix Windows errors and optimize system performance