The ability to change the taskbar text color in Windows is one of the long requested features by users. For a long time, it has not been possible, since neither Windows 10 nor earlier releases provide any option for this. Here is a workaround which will allow you do it.

RECOMMENDED: Click here to fix Windows errors and optimize system performance
A new version of the popular Classic Shell app, which provides a replacement Start menu for Windows 7, Windows 8 and Windows 10, along with a bunch of unique customization options for Explorer and Taskbar, now gives you full control over the taskbar's appearance. One of the
new options in Classic Shell 4.2.6
, which is just released, is the ability to change the taskbar text color.
In the following example, I changed my taskbar text to sky blue color: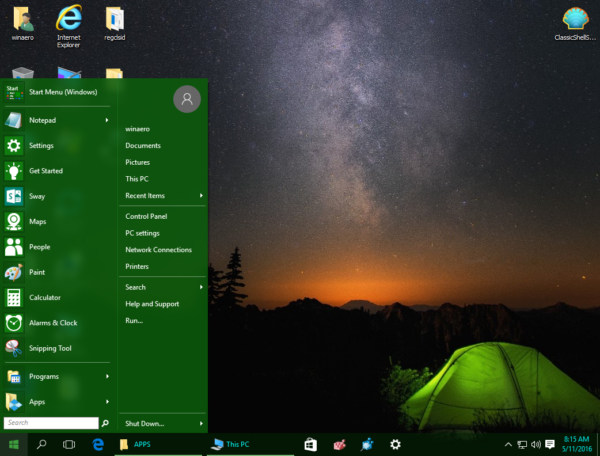 How to change taskbar text color in Windows 10
To change the taskbar text color in Windows 10 using Classic Shell 4.2.6, you need to do the following.
Install Classic Shell 4.2.6 from the official web site. If you are an existing user of Classic Shell, you need to update the app. All your existing settings are preserved when you upgrade.
Right click the Start menu button to open Classic Shell settings:
By default, the Settings dialog opens in basic mode: You need to switch it to the extended mode by ticking the "Show all settings" checkbox to get the following look:
Now, go to the tab called Taskbar and enable the "Customize taskbar" option. There, you will find a number of useful options to tune up the taskbar appearance. The option "Taskbar text color" is the one you need: You can set it to any color you like Press the [...] button to visually pick the color or enter the hex value of the color.
That's it.
RECOMMENDED: Click here to fix Windows errors and optimize system performance