Firefox 67 is the upcoming version of the popular browser.  It may allow users to block cryptocurrency miners and fingerprinters.
RECOMMENDED: Click here to fix Windows errors and optimize system performance
Starting with Firefox version 67, the browser may include cryptomining and fingerprinting protection that will block the JavaScript code of cryptominers and terminate fingerprinting attempts by certain websites.
The feature is planned to be included with Firefox 67 on May 14, 2019. It can be tweaked by using the following new options: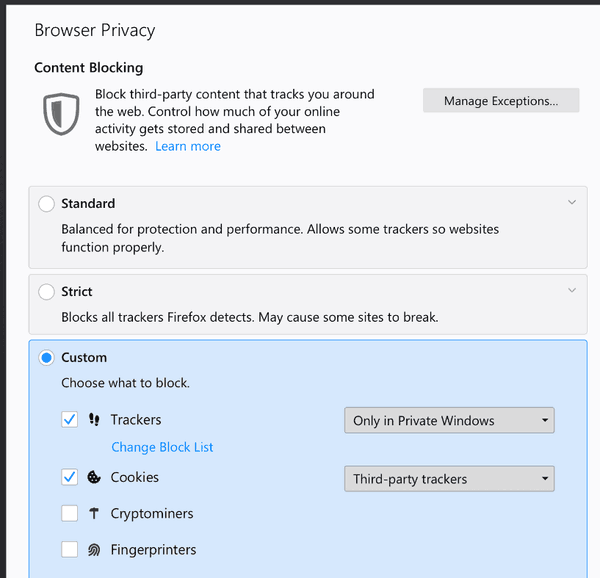 The site information flyout can be used to see if the browser found and blocked some cryptomining and fingerprinting on the currently open web site.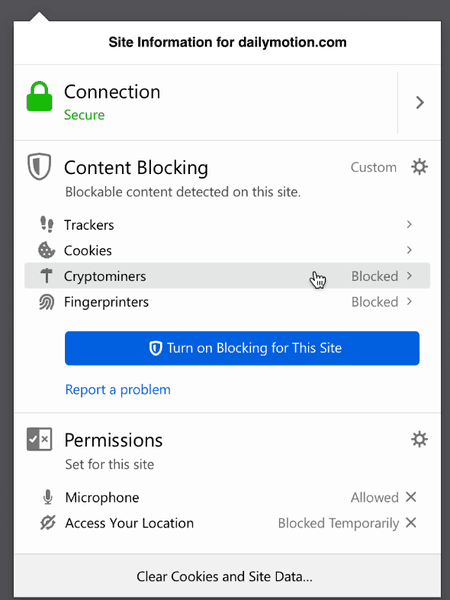 The options will allow the user to quickly add exceptions for a web site.
If you are not familiar with web cryptominers, they are programs written in JavaScript. They are intended to utilize your computer's resources to mine one or more cryptocurrencies like bitcoin. When you visit a web site with a cryptominer, it will cause high CPU load.
A browser fingerprint is a set of properties collected for unique identification of a user or device. It may include the screen size, installed languages, extensions, plugins, and regional options. In other words, the information that your browser reports to a web server or a web site is often enough to build a reliable fingerprint.
Another interesting change in Firefox 67 is a dedicated profile for each installation of Firefox (including Nightly, Beta, Developer Edition, and ESR installations) . This will make Firefox more stable when switching between installations on the same computer and will also allow you to run different Firefox installations at the same time.
You will not lose any personal data or customizations. Any previous profile data is saved and associated with the first Firefox installation that was opened after this change.
Starting with Firefox version 67, Firefox installations will have separate profiles. This will first apply to Nightly version 67, then make its way to version 67 of Developer Edition, Beta, Firefox, and ESR.
For more details, see Firefox 67: Individual Profiles for Simultaneously Installed Versions.
RECOMMENDED: Click here to fix Windows errors and optimize system performance