If you have changed your Windows 10 taskbar and window color several times, the colors you have used will be shown on the Change your color page in Settings. If you want to clear previously used accent color history, Windows 10 provides no option for this task! In this article, we will see how to remove previously used colors in Windows 10.

RECOMMENDED: Click here to fix Windows errors and optimize system performance
The Recent colors option is available under Settings - Personalization - Colors starting with Windows 10 Creators Update. Every time you change your window color, it replaces the previously used color in Settings.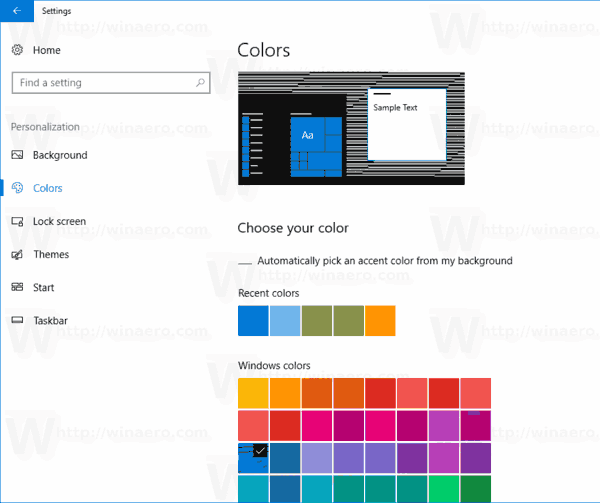 Windows 10 shows the last five colors under Change your color -> Recent colors. To see it, open Settings and go to Personalization -> Colors. Unfortunately, there is no way to remove the colors quickly from the history. The only way you can do it is by editing the Registry manually. Here is how it can be done.
How to Clear Recent Colors in Windows 10
Close Settings if you have it running.
Open the Registry Editor app.
Go to the following Registry key.

HKEY_CURRENT_USER\Software\Microsoft\Windows\CurrentVersion\Themes\History\Colors

On the right, see the string values ColorHistory0 - ColorHistory5. Delete them and you are done!
Tip: See how to go to a Registry key with one click.
Note: The ColorHistory0 value stores the current window's color applied to the taskbar, window borders and used as the accent color for Store apps.
Download a REG File to Remove Recent Colors History
To remove the history completely with one click, you can use the following Registry tweak:
Windows Registry Editor Version 5.00

[HKEY_CURRENT_USER\Software\Microsoft\Windows\CurrentVersion\Themes\History\Colors]
"ColorHistory0"=-
"ColorHistory1"=-
"ColorHistory2"=-
"ColorHistory3"=-
"ColorHistory4"=-
"ColorHistory5"=-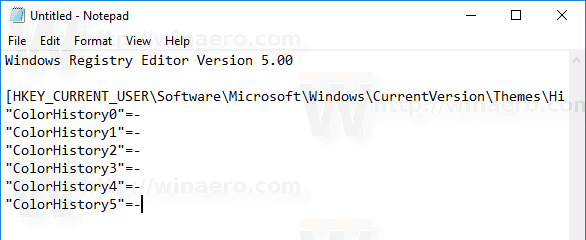 You can copy and paste the tweak's contents above to a new Notepad document. Then, press Ctrl + S or execute the Save item in Notepad's File menu. This will open the Save dialog.
There, type or copy-paste the following name "ClearColorHistory.reg" including quotes. Double quotes are important to ensure that the file will get the "*.reg" extension and not *.reg.txt. You can save the file to any desired location. For example, you can put it in your Desktop folder.
Double-click on the file you saved to clear the desktop background history instantly.
To save your time, you can download a ready-to-use Registry file from here:
That's it.
RECOMMENDED: Click here to fix Windows errors and optimize system performance