If you were a fan of the Aero visual style on Windows 7 and Vista with transparencies, blur, glow and other fancy effects, you would surely have missed it on Windows 8 and Windows 8.1. Many people were disappointed that the sleek, transparent glassy look of Windows 7 with rounded corners, glossy buttons and blur was gone in Windows 8 and replaced with flat, opaque colors without even as much as a gradient to make things look nicer. Well, you can have it back on Windows 8.1 and Windows 8. Here's how.
An ambitious developer, 'BigMuscle' who hangs around at the MSFN forum, tried to bring back Aero Glass when Windows 8 was released. He did so by hooking Desktop Window Manager (DWM.exe) functions. 'BigMuscle' reimplemented effects such as glass transparencies and blur using DirectX. It was an enormous amount of work reviving glass for Windows 8. We wrote about the project while it was still in its infancy. After many months of development, version 1.0 of Aero Glass was released for Windows 8. But that's not all.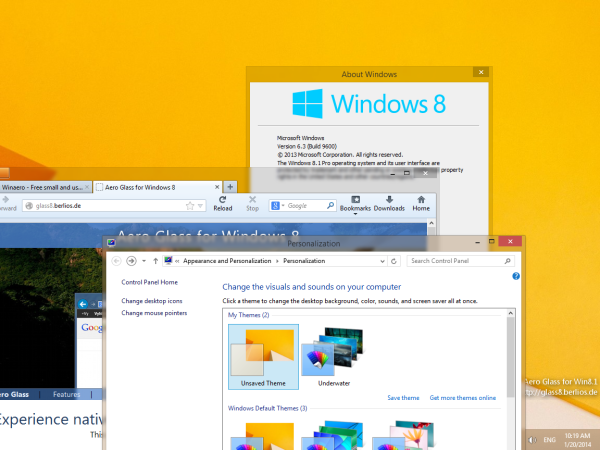 Windows 8.1 made some big changes to the Desktop Window Manager again and 'BigMuscle' had to work hard again to re-implement everything and make his project work on Windows 8.1. This week, version 1.0 of Aero Glass for Windows 8.1 also got released. It is a paid app (the free version isn't really free, it occasionally shows a message requesting you to donate and displays a watermark on the Desktop). To function smoothly, Aero Glass requires the debug symbols for some Windows processes and DLLs to be downloaded from Microsoft's public symbol server. If you donate and get the license, then the symbols are automatically downloaded, so for most users, this will be the easier way.
The Windows 8.1 version of Aero Glass differs significantly from the Windows 8 version and the two are not compatible with each other so make sure you get the correct version.
Download Aero Glass for Windows 8 and Windows 8.1
You can donate as well as generate a license for yourself after donating from this web page. Enter the email address there that you used for donation and the machine code which will be shown to you after installing Aero Glass. The machine code is unique to every PC.
How to bring back the full Windows 7 look to Windows 8
Downloading and installing Aero Glass for Windows 8.1 or Windows will only give you back the glass effects that were removed from the Desktop Window Manager. It does not give you back the Windows Aero visual style which was also changed in Windows 8 to have square corners and flat caption buttons in the title bar. To bring it back: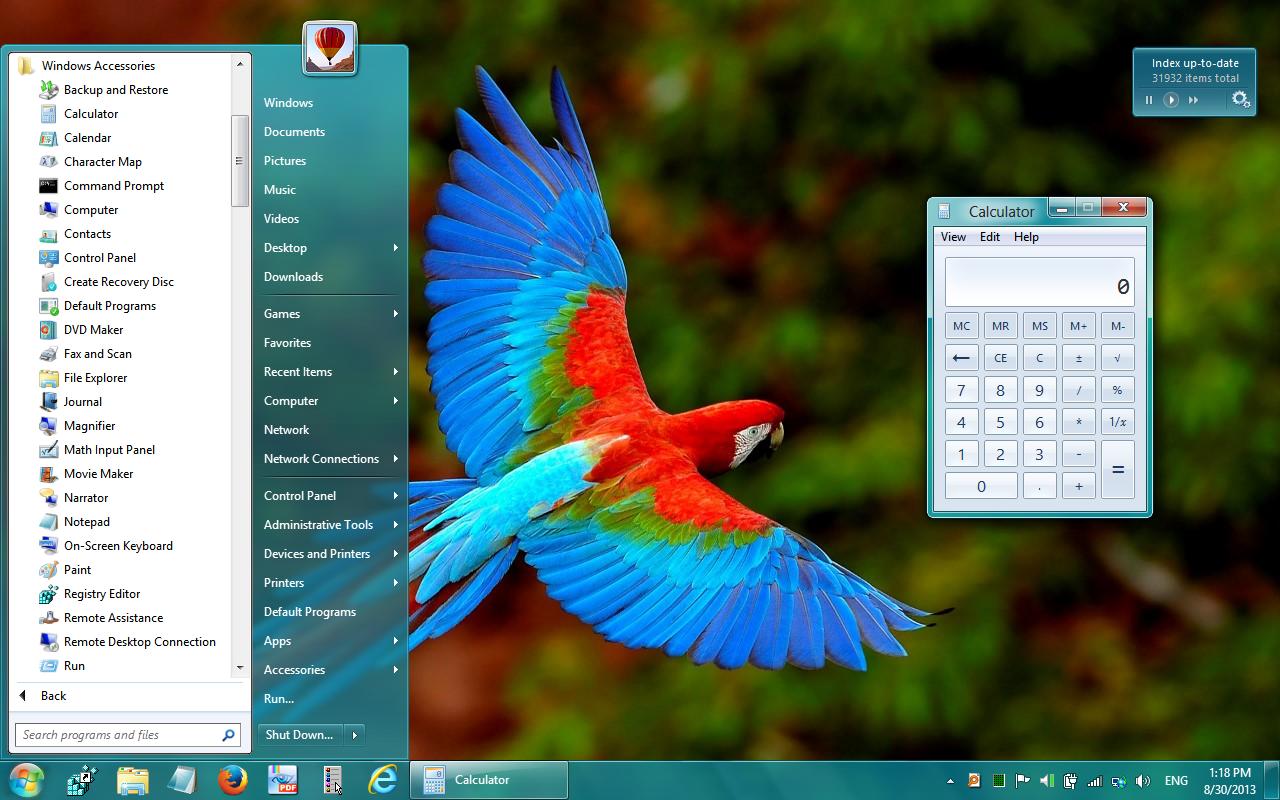 Install UxStyle for Windows 8.1 or Windows 8 so you can install custom unsigned themes. Read this article if you are not sure how to do this: How to install and apply third party themes in Windows 8.1
Download the correct visual style for your version of Windows. The ones I recommend are:
For Windows 8.1: Aero 8.1
For Windows 8: Aero 8
The ZIP file in these themes have all the instructions for installing it. The above themes have both variations - rounded as well as square corners.
Aero Glass itself includes a feature to load theme resources. Download some theme resources from this web page.
How to bring back the glass into the Classic Start Menu
If you are using Classic Shell on Windows 8.1 or Windows 8 which is the recommended premium Start Menu of choice for me, then open Classic Start Menu settings and look for a setting called "Enable Aero Glass (requires Aero Glass mod)" on the 'Menu Look' tab. Turn it on and click OK. From the skin tab, you could use the Windows Aero skin or the Windows 8 skin (depending on whether you want rounded corners or square).
If you are using StartIsBack, installing the visual styles mentioned above is enough to get glass working, however, StartIsBack is commercial and does not include as many customizations as Classic Shell.
For any questions or technical support related to Aero Glass for Windows 8.1/Windows 8, ask in the Windows 8 section of the MSFN forum.
If you are not a fan of the Aero theme and instead prefer the Windows 8 look, you could always use Winaero's beautiful theme for Classic Shell on Windows 8.1.
Support us
Winaero greatly relies on your support. You can help the site keep bringing you interesting and useful content and software by using these options:
If you like this article, please share it using the buttons below. It won't take a lot from you, but it will help us grow. Thanks for your support!