Ever since Microsoft introduced the theming engine in Windows XP, they don't allow visual styles (themes) which are not digitally signed by themselves to be used. Windows 8 is no different in that regard, so we need to patch certain system files to be able to use these themes. In this tutorial, I will show you how you can use third party themes:
Option 1 (Recommended): UxStyle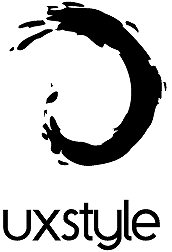 Install the UxStyle software developed by Rafael Rivera. The main benefit of this app is that it keeps system files untouched on disk and works transparently in memory.
Just follow the instructions in the installation wizard.
Option 2: UltraUXThemePatcher
UltraUXThemePatcher is free software created by M.Hoefs wich allows you to use and apply third party themes.
It has the following options:
unproblematic installation
fast, easy and free
Modification of the own system files
multilingual
check the files for compatibility during the installation
backup from the original system files
rebuilding of the original system files through un-installation
silent installation with parameter /S
UltraUXThemePatcher is compatible with Windows XP, Windows Server 2003, Windows Vista, Windows Server 2008, Windows 7 and Windows 8 (for 32bit and 64bit version).
This is recommended option in case you are not able to use UxStyle.
Option 3: Skin Pack Auto UXThemePatcher
Download and install Skin Pack Auto UXThemePatcher by our friend Hamed SP.

Run the downloaded file. You may get SmartScreen warning like this:

Click the "More Info" link and then choose Run Anyway.

Click "Yes" if you get UAC confirmation prompt. Accept the license agreement:

On the following screen don't forget to uncheck "IncrediBar" options, otherwise you will get an unwanted browser toolbar.

Finish the installation and reboot your PC.
Once you are finished, copy your theme folder (containing a .theme file and a folder containing .msstyles file) to "Windows\Resources\Themes" folder (directory on system drive where Windows is installed. Usually it is the C: drive).
 Now double-click on .theme file and it'll apply the theme or you can apply it using Personalization control panel.
That's it.