This PC Tweaker - my brand new work.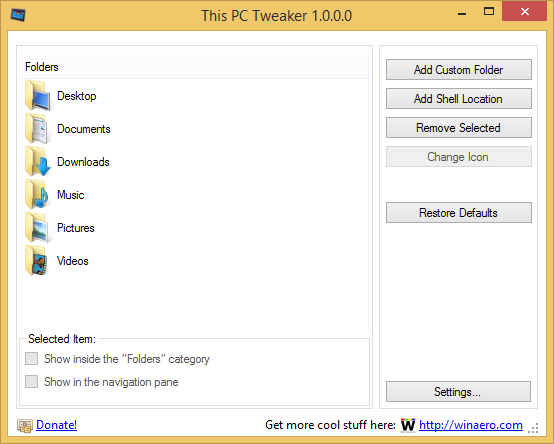 Attention to all
Attention to all This PC Tweaker users, the Navigation Pane editor feature was dropped from the RTM release of This PC Tweaker 1.0 due to bugs and stability issues. It will be released as a separate app very soon.
Version 1.3 is available, please download a new version with Windows 10 support!
This application allows you to customize items inside the "Computer/This PC" folder and many other things
The features list of the This PC Tweaker
With This PC Tweaker, you will be able to perform the following customizations:
to add any folder to the Computer/This PC folder. Really any.
to remove any folder from the Computer/This PC folder.
to change the icon for any folder inside Computer/This PC.
to add any shell location like Administrative tools, God Mode, Network Connections
you can pin or unpin Computer/This PC items from the Navigation Pane of Explorer in Windows 8.1, Windows 8 and even in Windows 7!
You can remove or add any item from the Folders category inside the Computer/This PC folder.
to restore defaults with one click.
You can get something like this with just a few mouse clicks:


And sure, in Windows 7 too:

This PC Tweaker has access to all usable shell locations in Window and provides them for you. You will be able to add even God Mode to the "computer" folder.

Tip: if God Mode (All tasks, all settings items) does not showing in This PC/Computer, you should log off/log in back or restart Explorer.
This PC Tweaker supports Windows 7, Windows 8 and Windows 8.1 completely.
This PC Tweaker in action
Windows 7:
Windows 8:
This PC Tweaker has translatable UI and you can translate it with simple text file. Just rename the Languages\English_template.ini to YourLanguage.ini and translate strings in that file. That's it. Feel free to send me your translations - I will include them with application zip archive.
Available translations:
English - out-of-box support.
Russian - by Winaero.
Czech - many thanks to "moderate".
French - many thanks to Gйrald Beau.
German - many thanks to Andrea Goetz.
Spanish - many thanks to RoTcE.
Polish - many thanks to Dariusz K?pi?ski.
Portugese - many thanks to Gutierrez PS.
Before you will report bugs
1. If you will remove the Pictures folder but add Pictures\Screenshots, then Pictures will appear in This PC anyway. This is the same for all default folders in This PC. Do not report this bug, this is not a bug, it is the default Explorer behavior in Windows 8. This is fixed in v1.1. Many thanks to the author of StartIsBack, Tihiy, for this hotfix!
2. You cannot change the icon of special shell locations added to This PC, you can only change the icons of custom folders you add yourselves. I designed this intentionally to prevent you from breaking Control Panel. Believe me, this is required.
Change log
v1.3 - the application supports Windows 10 now. I tested it on Windows 10 build 10122, so that build and above are supported.
v1.2.0.1 - the critical update
Bug fixed: In Windows 8.1/Windows 8 x64, if you remove standard folders from This PC and then restore defaults, This PC folder may become broken for 32 bit (x86) apps. Due to bug, the app was not be able to restore registry properly and this could cause the empty This PC folder for x86 apps in the open/save file dialog.
It is strongly recommended to upgrade the app to version 1.2.0.1.
To fix the broken keys,press and hold the SHIFT key and click the "restore defaults" button. You should get the following message:
---------------------------
This PC Tweaker
---------------------------
x64 broken keys recovery
---------------------------
OK
---------------------------
v1.1.0.1
* Bug fixed: In Windows 7, you were not be able to open added folders to Computer
v1.1
* Bug fixed: when you add a custom folder to This PC/Computer, the New Folder button inside this folder was not available.
* Bug fixed: Removed shell folders like Downloads, Pictures may re-appear in This PC, if you add any of their subfolders.
v1.0.0.1
Ability to rename the folder you added.
v1.0.0.0
* The application was rewritten from scratch.
+ Added ability to add any folder
+ Added ability to change icons
+ Added navigation pane pinning support for Windows 7
+ Added proper Windows x64 handling
+ Added translations support
* Fixed many bugs
v0.0.0.3
+Windows 8.1 RTM support.
v0.0.0.2
+Added Windows 7 support
+Added the "Navigation pane" feature
v0.0.0.1
Initial release with This PC tweaking feature only.
The application's icon was created by Rhor. Many thanks for his hard work.
This app has been superseded by Winaero Tweaker and is no longer being maintained. Use the following options from Winaero Tweaker:

You can download Winaero Tweaker here: Download Winaero Tweaker.
Support us
Winaero greatly relies on your support. You can help the site keep bringing you interesting and useful content and software by using these options: