Grand update is here - Skip Metro Suite 3.1.
We have completely redesigned it. Now it is just one portable *.exe file! See full change log below
P.S. Please uninstall all previous versions of Skip Metro Suite before you will start to use version 3.1
Attention to all Windows 8.1 users.
YOU DO NOT NEED TO USE THIS APP! You should look to the following apps and articles:
<a class='bbcode' href='https://winaero.com/blog/how-to-skip-the-start-screen-and-boot-directly-to-desktop-in-windows-8-1
' >How to skip the Start screen and boot directly to Desktop in Windows 8.1
Maybe you already known what Windows 8 won't allow you to boot directly to Classic Desktop. Instead of that you have to click on "Desktop" tile every time you logged in. This is very annoying behavior for all of us who prefer to work with Class Desktop instead of Metro Start Screen. So I decide to fix it.
Skip Metro Suite for Windows 8 allows you to boot directly to Classic Desktop in Windows 8 RTM and Release Preview. Also it allows you completely disable all edge panels, not just hide them! All of them will be disabled, including square start button at bottom-left corner.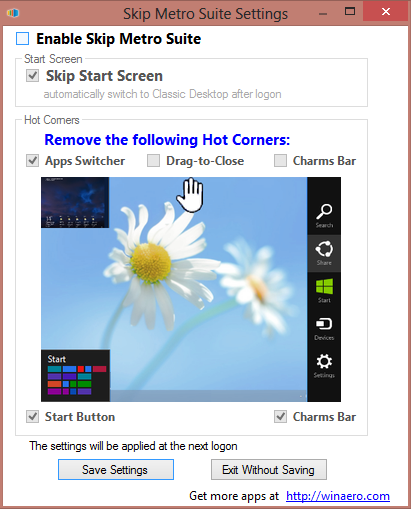 Also it features all tweaks from our latest article "How to disable the edge panels (Charms Bar and Switcher) in Windows 8".Since version 2.0 it uses own method to kill hot corners.Skip Metro Suite allows you to disable top-left hot corner (aka Switcher) and Charms Bar hint. So, you need no tweaks anymore to perform all of these tasks.
---
How to uninstall Skip Metro Suite
---
Skip Metro Suite features:
Skip Start Screen feature.
Switcher can be disabled.
Charms Bar Hint can be disabled.
Can completely REMOVE edge panels, including Charms Bar,Switcher and square start button at bottom-left edge of Desktop.
Skip Metro Suite change log
v3.0 - the new era of Skip Metro Suite
Installer and Windows service are removed. Now Skip Metro Suite is portable application and does not require to be installed!
Skip metro engine is rewritten. This must solve all previous issues.
Settings are rewritten. This resolves all issues with corrupted/non-working settings.
New checkbox added which will allow to disable Skip Metro Suite. This equals and means "uninstall".
v2.1.1
Attempt to fix multimonitor configuration issue.
Attempt to fix autologon issue.
Fixed drag-to-close issue.
v2.1
Now you are able to disable the individual edge ui corners.
v2.0
Fixed broken Windows 8 x86 support
Fixed annoying bug: application starts twice when you have many active users at one PC.
Apllications was rewritten for better code and optimized for performance
v1.2.1.1
Fixed critical bug which prevented application from start on some PCs.
v1.2.1
Fixed "lock workstation" issue. It minimizes Metro twice after log on.
v1.2.0.1
Fixed settings file access issue.
v1.2
Edge UI panels disappear much more faster (startup folder is not used anymore).
You will able to close Metro apps with mouse drag - this part of Edge UI now will be kept.
Multi-user environment improvements.
Better installer behavior for "update" mode.
v1.1.1
Fixed double switching from Metro to Desktop.
Switching speed is improved.
Installer makes updates properly
v1.1.0
Version 1.1 allows you to kill all EdgeUI panels like Switcher and Charms Bar, not just hide them.
v1.0.1
.NET Framework 3.5 is not required anymore. NSIS based installer instead of MSI bloatware.
v1.0
Initial release.
It includes updated code base what switches to classic Desktop even more faster. Also some minor bugs was fixed.
Skip Metro Suite in action
Currently Skip Metro Suite requires .NET Framework 3.5 to be installed. I will release .NET 4.5 version as soon as I will reinstall my Windows 8 and Visual Studio 2012. Stay tuned.
Latest version of Skip Metro Suite does not require the .NET framework 3.5
Skip Metro Suite is portable application and does not require to be installed! It is available for bot Windows 8 x86 and Windows 8 x64 .
Many thanks to my friend Gaurav Kale for his useful suggestions and testing!

Support us
Winaero greatly relies on your support. You can help the site keep bringing you interesting and useful content and software by using these options:
If you like this article, please share it using the buttons below. It won't take a lot from you, but it will help us grow. Thanks for your support!