RegOwnershipEx is an application which allows you to do the following tasks:
you will be able to take ownership of a registry key with one click (useful to get the full access to the key).
you will be able to jump directly to desired registry also with one click.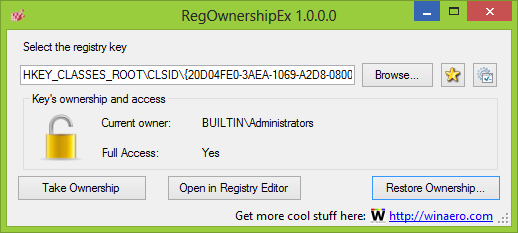 Latest version is 1.0.0.2, see the change log below
RegOwnershipEx features the following options:
take ownership and provide full access to selected registry key.
registry browser for easy registry key selection.
favorites - for quick access to your favorite registry locations. It is shared with Favorites menu of Registry Editor.
restore ownership feature allows you to restore the ownership and access rights that you have changed early. i.e. this is opposite action for "take ownership".
registry jump feature - you can open the selected key in Registry Editor. It is very handy option when you read some tweaking related article and want to jump to the key mentioned in article.
shortcuts for root keys - you may use HKCU instead of HKEY_CURRENT_USER, HKLM instead of HKEY_LOCAL_MACHINE and so on.
Multi language support - you will be able to translate application into your native language by simple ini file. Beginning with RegOwnershipEx, all Winaero apps will support such way of localization.
See the screenshot with all windows: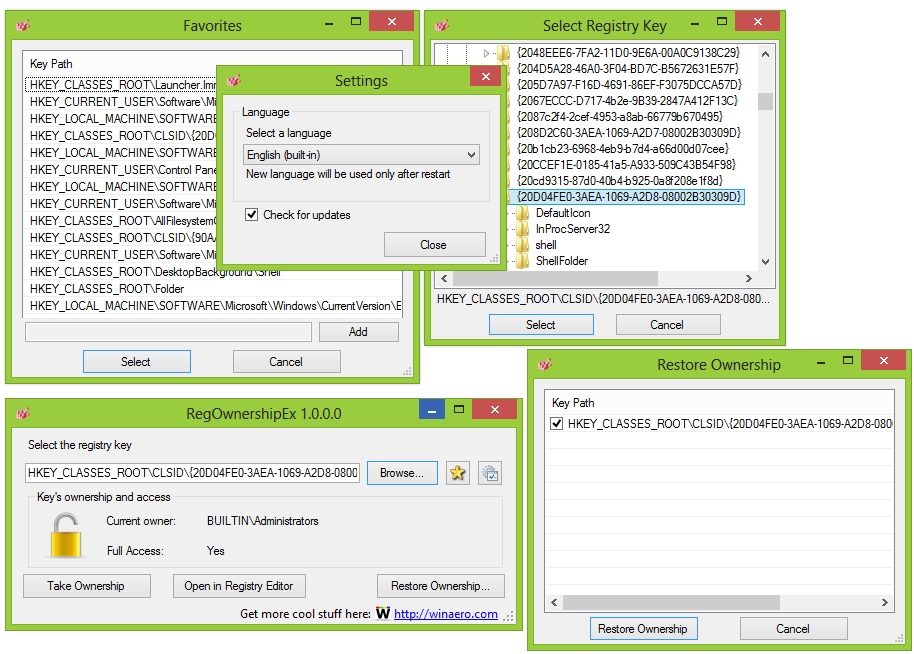 RegOwnershipEx in action
Change log
v1.0.0.2
Fixed a number of minor issues (like a warning message box when open settings)
Updated Czech translation
There are no more separate versions for x86 and x64. Now it is one universal executable file for both platform.
You can paste a Registry path with brackets like [HKEY_LOCAL_MACHINE\Software], for example, directly from your REG files. It will be processed.
v1.0.0.1
Improved "open in registry editor" feature. If you specify an invalid key, the working part of the path will be opened in Registry Editor.
added the customizable behavior for the "Enter" key in the registry path text box.
added clipboard handling to extract the registry path right from Windows clipboard.
added "/j" command line argument to extract the registry key path from the clipboard and jump into Registry Editor directly.
See all of these improvements and features in the following video:
v1.0
Intial release
How to translate RegOwnershipEx in your native language
Currently the list of available translations looks like follows:
English - created by Winaero
Russian - created by Winaero
Czech - created by Milan Benes
Deutsch - created by "bildmacher"
Romanian - created by Adrian Putina
Ukrainian - created by Dmytro Zikrach
Dutch - created by "UltraWindows"
Arabic - created by "AirportsFan"
European Portuguese translation by Pedro Almeida
Swedish - created by Еke Engelbrektson.
French - created by Alain.
Hungarian - created by "BlueEyes Helpdesk".
Hebrew - created by Shai - Path Team.
Portuguese - Brazil - created by Whitewk Vx
Italian - created by Mauro Comiotto
Korean - created by Zames Dean
Danish - created by "ThomasNB"
Vietnamese - created by Tri Nguyen
Spanish - created by "FitoHB".
Chinese - created by ??
Polish - created by Barbara
Japanese - created by Maeda Keijiro
Greek - created by Makis Karousos
Many thanks to all translators!
If you want to translate RegOwnershipEx into your native language, then rename the Languages\English_template.ini file into YouLanguage.ini and translate all strings included into that file. Don't forget to share with me your translation - i will include it
with the app. Thanks in advance. My Email is here.
How to report a bug
If you found out a bug, please provide the following info:
what you are tired to do.
which registry key caused the bug.
if you issued the unhandled exception, please click "details" button and copy text provided by .NET framework.
RegOwnershipEx is available for Windows 8 and Windows 7, both x86 and x64 platforms are supported. You can use this app in Vista x86/x64 too, but you may need to install the .NET 3.5 framework.
RegOwnershipEx is free and portable application, as usual.
Support us
Winaero greatly relies on your support. You can help the site keep bringing you interesting and useful content and software by using these options:
If you like this article, please share it using the buttons below. It won't take a lot from you, but it will help us grow. Thanks for your support!