Some time ago, the beta version of Opera 37 introduced a built-in ad blocker. Today, version 37 has reached the stable branch of the browser. Interestingly, the ad blocking feature was added to the Opera Mini browser as well.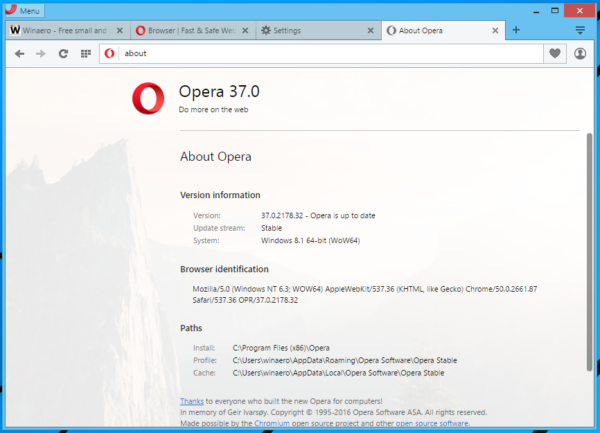 To try out the desktop version of Opera with the ad blocker, you need to install it first. Existing Opera users should already get the new version via the auto update feature of the browser. Others can point their browser to the following web site and click the "Download now" button:
Once installed, you will notice that the ad blocker is not active by default. It is disabled out of the box, so you need to turn it on in Settings.
Do the following.
Open Settings by pressing Alt + P shortcut keys on the keyboard. Alternatively, you can open a new tab and type or paste the following text in the address bar of Opera:

chrome://settings
A special icon in the address bar indicates that ads are being blocked. The user can click it and see page loading statistics. The browser reports the speed benefits of loading the web page with ads disabled.
In Settings, the user can specify exceptions for sites which will continue to show ads. A number of sites have already been added to the exceptions list by default.
The same ability was added to the Opera Mini browser, designed for smartphones. In the press release, Opera developers claim the following:
Ad blocking is also very useful on a mobile device, where online ads take up precious screen space, slow down browsing, and adding to the user's data bill.

By removing online adds, the new version of Opera Mini loads webpages 40% faster than with the ad blocker disabled.

For cost-conscious mobile users, there is an added advantage to removing online ads, and that is saving money on the data bill. Opera Mini is known for its compression technology, which drastically reduces the size of data from a webpage. By also blocking ads, Opera Mini users can achieve up to an additional 14% in data savings on top of that, so that, less is deducted from a user's mobile data allowance.
Again, the built-in ad-blocker feature is disabled in Opera Mini. To enable it, do the following:
Under the "O" menu in Opera Mini, tap data-savings summary.
From there, simply toggle "block ads" on and off.
On Android, the ad blocker is available in both high- and extreme-savings modes.
If you are interested in reading the whole change log for Opera 37, it is available HERE.
A built-in ad blocker is not a new idea for web browsers. Many desktop and mobile browsers already have ad-blocking capabilities with the help of extensions or have a native ability. Maxthon has AdBlockPlus integrated for example. The popular Russian browser, Yandex for desktop also has a built-in ad blocker. There are also Adblock and Ghostery browsers available for Android, created by developers of these popular ad blocking extensions for mainstream browsers. Internet Explorer's InPrivate Filtering and Tracking Protection used to offer similar functionality.
Now Opera can compete with existing solutions by providing the same functionality out-of-the-box.
While playing with Opera 37, I found no way to customize ad blocking rules. It can make the built-in Opera solution less effective or even totally ineffective against regional/country specific ads. Popular extensions like uBlock Origin and Adblock Plus allow the user to specify which rule set to use. They also support the ability to use several ad blocking lists in addition to the main rules list. This allows having a clean view of web pages without any ads, without user tracking elements. By not giving the ability to customize rules, Opera has made this feature less attractive for advanced users.
Support us
Winaero greatly relies on your support. You can help the site keep bringing you interesting and useful content and software by using these options: