A new feature, called "Containers", has recently landed in Mozilla Firefox Nightly builds. With this new feature, you get a set of private tabs in addition to private windows which exist in current versions of the browser. Containers isolate tabs from each other so you can be logged in to two different user accounts for the same website, for example.

The feature can be accessed from the File menu of Firefox. To try Containers in action, open File -> New Container Tab: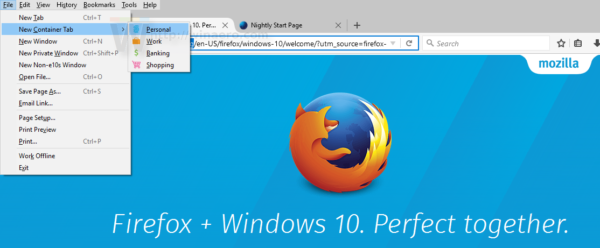 There you will see 4 predefined containers:
Personal
Work
Banking
Shopping
It works like this.
Every Container, which can include one or several tabs, will have its own set of cookies, local storage and other session related parameters isolated from the main browsing session and other containers. For example, once you are logged in to some web site in one of the containers, all tabs opened in the same container will be able to recognize your session and will show you as logged in to that site.
If you signed in to Facebook with a tab of the Personal container, all tabs from the Personal container will show you logged in on Facebook, however, the main browsing session and Work, Banking and Shopping containers will not show you logged in there.
The best thing about this Containers feature in Firefox is that the set of cookies and other session-related data will be saved between browser restarts. If you signed in to Facebook with a tab of the Personal container, then closed the browser, the next time you open it, the Personal container will keep you signed in to Facebook. This gives the Containers feature an edge over Private Browsing sessions.

So you can have multiple user account sessions for the same web site in a single browser window. The official announcement describes it as follows:
The Containers Feature in Firefox Nightly enables users to login to multiple accounts on the same site simultaneously and gives users the ability to segregate site data for improved privacy and security.
Tabs in a container have a different color and show the container name in the address bar:
This will help you remember which context you are browsing in.
In Customize mode, you can add the button "Open Container Tab" to the toolbar or inside the hamburger menu for faster access.
It is a good idea to add it if you are going to use it frequently. Here is a picture of the button:
The following short video shows containers in action:

Tip: You can subscribe to Winaero at YouTube.
So, the main idea behind containers is to allow users to protect their confidential data when using the same site from different containers. The search history of the work environment will not include sensitive data related to personal/private search queries if they are done in another container. These isolated profiles should increase the protection level of user data. For example, users could use their Banking Container exclusively to log in to banking and payment websites, protecting themselves from potential XSS (cross site scripting) and CSRF attacks on these sites.
What do you think about Containers? Do you welcome this feature?
Support us
Winaero greatly relies on your support. You can help the site keep bringing you interesting and useful content and software by using these options: