I am happy to announce Winaero Tweaker 0.2.5. Although I am considering this release as a minor one, you might be interested in playing with the new options I implemented for Windows 10. It allows you to tweak some secret hidden options which do not exist in the Settings app or in other parts of the Windows 10 GUI.

RECOMMENDED: Click here to fix Windows errors and optimize system performance
I implemented the ability to turn on the dark theme for Settings and apps with just two checkboxes. Play with the options in Windows 10 Techincal Preview -> Dark Color Scheme and see if the result is usable for you. Personally, I like the darker appearance of Windows 10 more than the default (light) color scheme: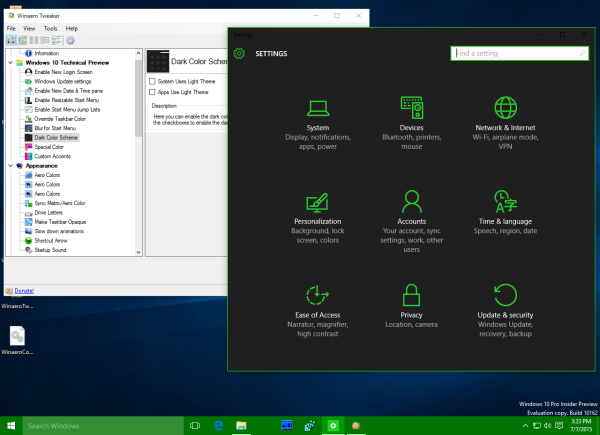 Winaero Tweaker now extends the customization capabilities of Windows 10. It provides you a way to add up to 9 custom colors to the Settings -> Personalization -> Colors page.
The first option is the "Special Color" feature. It allows you to define a custom color which can be added to Settings -> Personalization -> Colors page of the Settings app, specifically to the last color box. That color can be applied to the taskbar, Start menu and Notification Center. I wrote a detailed article about this feature recently. Read it here: Add a custom color for taskbar to Windows 10 Settings app. Now this is possible via the appropriate Winaero Tweaker option: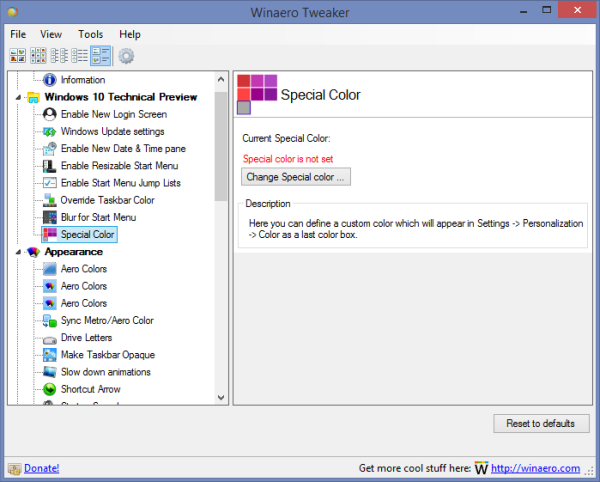 Note: this feature works correctly only when the current color is set to one of the predefined colors. If not, the Settings app will overwrite the Special Color with a non-standard value. So, if you want to use the Special Color feature, enable the option "Show color on taskbar, Start menu and Action Center" in the Settings -> Personalization -> Colors page and set one of the predefined colors as the current color, otherwise the trick won't work.
The second option is called Custom Accents and allows you to define 8 additional colors which will be displayed in Personalization -> Colors page in the Settings app. You can find more details about this feature in the article: Add custom colors to the Colors section of the Settings app in Windows 10. Here is how the UI for it looks in Winaero Tweaker: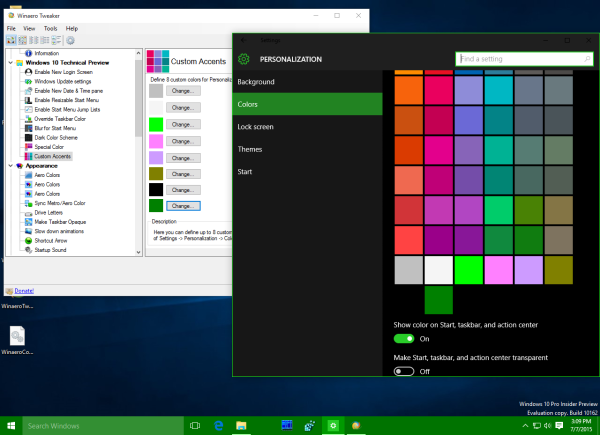 That is all that I have added in Winaero Tweaker 0.2.5. If you find some bug, feel free to report it. I hope you find this release useful.
Download Winaero Tweaker | The list of Winaero Tweaker features | Winaero Tweaker FAQ
RECOMMENDED: Click here to fix Windows errors and optimize system performance