In Windows 10 Creators Update, Microsoft is adding a lot of new features to the operating system. But a few changes made to classic apps were unexpected. The Snipping Tool got an updated user interface.

RECOMMENDED: Click here to fix Windows errors and optimize system performance
In Windows 10 build 15014, Snipping Tool got a separate button for the capture action. Previously, it was the same button which sets the capture mode.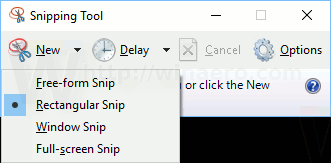 Now the capture mode got a dedicated button. Here is how it looks.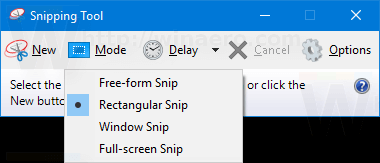 Also, it got a new icon.
Here is the old icon:

And this is the new one: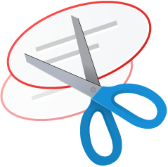 In previous builds, Snipping Tool got the ability to start the region capture from the command line and also its own global hotkey for this action.
The Snipping Tool was part of Windows XP Tablet PC Edition but went mainstream after it was included in Windows Vista. It is able to capture screenshots of a window, of a screen area or the whole screen contents. Once you capture an image, you can add an annotation and save your capture to a *.png, *.jpg or *.gif file. The tool did not change much until Windows 10, where it got a Delay feature. Windows 10 Creators Update will be the first release of Windows 10 where such significant changes will be made to this app.
RECOMMENDED: Click here to fix Windows errors and optimize system performance