In Windows 10, you can create a System Performance report to inspect system and app performance issues in a useful way. In the report, you will find the status of your hardware response times and running processes in detail.

RECOMMENDED: Click here to fix Windows errors and optimize system performance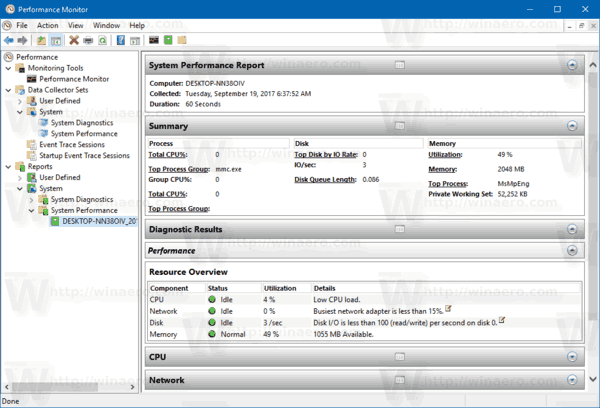 The report includes of a number of sections, listing the status of critical system components with their performance impact. It comes with a summary and resource overview along with every component's impact explained. This is one of the most useful reports in Windows 10. The System Performance report is part of the built-in Performance Monitor tool.
Sign in as Administrator before proceeding.
The System Performance report includes the following categories:
System Performance Report. This section includes some general information about your PC like its name, current date etc.
Summary. Here you will find a summary view of analyzed processes and system components.
Diagnostic results. This section shows a brief overview of system resources and their status.
CPU.
Network.
Disk.
Memory.
Report Statistics - reveals some details about information included in the report.
You need to sign in as Administrator before proceeding.
To create a System Performance report in Windows 10, do the following.
Press Win + R keys together on your keyboard and type the following in the Run box:

perfmon

The Performance Monitor app will be opened. On the left, expand the Data Collector Sets item and go to System -> System Performance. See the following screenshot.
Right-click the System Performance item and select Start from the context menu. This will create a new System Performance report for the last 60 seconds of system uptime.
To see your report, go to Reports -> System -> System Performance in the left pane. There, you will find all reports created on your PC.
Some other useful reports in Windows 10 are:
RECOMMENDED: Click here to fix Windows errors and optimize system performance