Windows 10 Creators Update is not far from its release. It is expected in April 2017. The operating system is now feature complete. Recent builds come without a desktop watermark. At the last moment, Microsoft has decided to add a new option to Windows Update, which solves the infamous issue with automatic reboots.

RECOMMENDED: Click here to fix Windows errors and optimize system performance
Windows 10 is known for automatic restarts when updates arrive. They interrupt whatever you are doing and reboot the OS causing you to lose your work. Microsoft claims they are trying to prevent fragmentation by getting everyone on to the same build so stability and reliability improves and bugs and unpatched PCs are minimized. Before Creators Update, the user had only these options:
In addition to these options, Windows 10 Creators Update has got the ability to pause updates.
A new option, Snooze updates, gives the user more control on how updates should be installed. A new update installation prompt now comes with three buttons: Restart now, Pick a time, Snooze.

The Snooze button automatically postpones the update installation process for 3 days.
But that's not all. Yet another option was added to Windows Update options. It will allow the user to specify the exact time when to restart the PC and install all pending updates. Here is how the user interface looks like.
Schedule Updates in Windows 10 Creators Update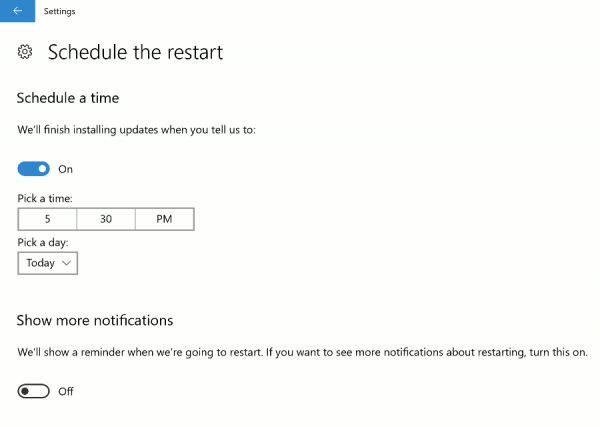 Microsoft implemented these options in order to satisfy users who are not happy with the current behavior of the operating system. Plenty of users reported that Windows 10 restarts on its own picking the most inconvenient moment of time, disturbing their workflow and even losing their data. Nobody can be happy if their PC restarts right in the middle of what they were doing.
According to Microsoft, these new options should make Windows 10 more friendly to the user and help avoid such accidents.
What do you think about this Windows Update change? Do you agree that these options solve all the issues with Windows 10 automatic restarts and with updating in general? Tell us in the comments.