If you use multiple profiles of the Firefox browser simultaneously, assigning each profile its own icon or title can be really useful. This allows you to find the Firefox instance you need to switch to at any moment. Here is how it can be done.

RECOMMENDED: Click here to fix Windows errors and optimize system performance
Having several Firefox profiles is a good idea. You can create a profile for a set of tasks you are doing on the Internet. For example, one profile can be used for banking, another one for social networks and a third profile for general web surfing. Every profile can have its own preferences and its own set of add-ons. You can run Firefox with different profiles using special command line arguments described here:
Run different Firefox versions simultaneously
Once you configure your profiles, you might find it hard to find a specific instance of that profile on the taskbar, since they all have the same icon. It takes some time to read the title and pick the right window. To avoid this, you can add text to each profile and assign a custom icon.
Set a custom title for a Firefox profile
To add text to a Firefox profile, you can use the excellent add-on "FireTitle". You can install it from Mozilla Add-ons, also known as AMO:
Once the extension is installed, visit its preferences. Its default configuration is suitable for most users. Here is how the configuration window looks like: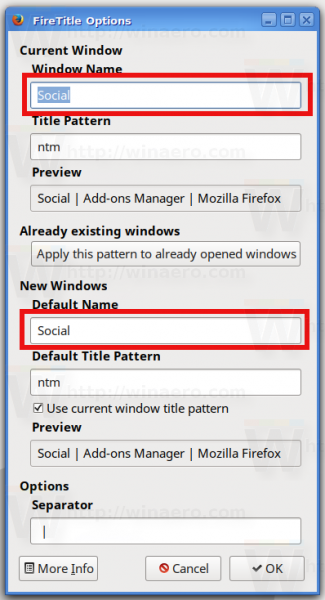 To set a custom title, you must fill the text boxes "Window Name" and "Default Name". The position in the title bar of the text you entered is defined by the letter "n" in the options "Title Pattern" and "Default Title Pattern". You can learn more about title patterns by clicking the button "More Info":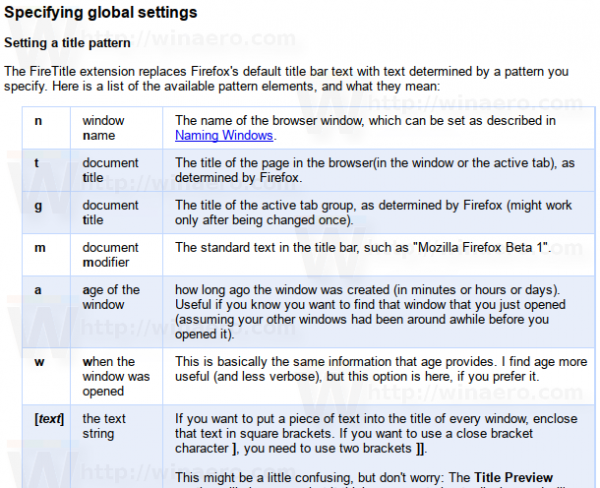 The first is the title pattern, so the text I enter here will be displayed as the initial portion of the title. Now the profile is clearly visible in the taskbar:

Set a custom icon for a Firefox profile
In addition to the custom title, it can be useful to set a custom icon for a profile. With recent versions of Firefox with add-on signature enforcement, it is not so easy to apply a custom icon from your own collection because this operation requires a signed add-on. Thankfully, a number of add-ons exist in AMO.
The developer "Makyen" has created a number of lightweight add-ons which help to visually differentiate profiles. You can find them here:
Add-ons provide predefined static icons like Aurora, TV, Puzzle etc which can be applied to a specific profile.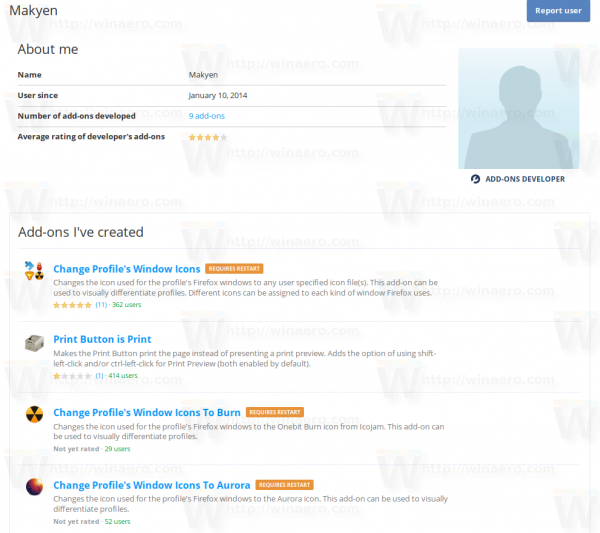 So you can end up with something like this:

Now it is clear which window represents each profile:

That's it.
RECOMMENDED: Click here to fix Windows errors and optimize system performance