Today, the team behind the Opera browser released a new developer version of their product. The very first release of Opera 53 is now available for download. It features are number of changes to the user interface of the Speed Dial page.

RECOMMENDED: Click here to fix Windows errors and optimize system performance
News below Speed Dial
This build introduces the news feature, which can now be seen directly below the Speed Dial. Upon expressing their consent, users will get access to news chosen based on their personal preferences. In the current build, users from Russia, Ukraine, Belarus and the USA will be able to play around with the feature. Here is how it looks.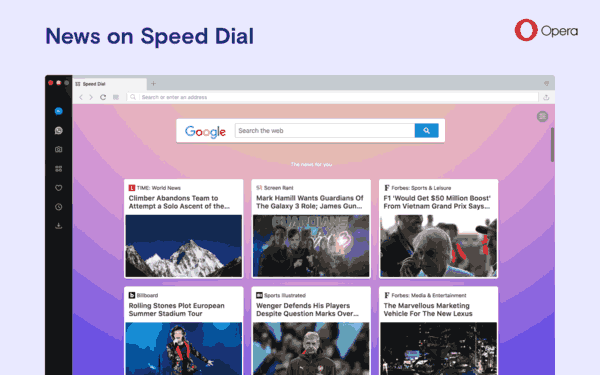 Opera 53.0.2880.0 can be downloaded using the following links:
Other interesting changes include:
DNA-67056 Implement polymer-based "block ads – exceptions" for new settings
DNA-67057 Implement polymer-based "block ads – lists" for new settings
DNA-67482 Update icons and show them in the right context
DNA-67891 Improve wallpaper loading
Opera 52 Beta
Additionally, a minor update released to Opera 52 Beta. Its key changes are as follows:
Issue when moving bookmarks on Linux (thanks andrew84 for pointing this out!)
Crash on Linux while saving a webpage as a PDF (thanks x a, Let's talk and others for your comments!)
Speed Dial extensions are fixed now
DNA-67455 Closing messenger doesn't work correctly on Windows
DNA-67663 Adding exception for adblock doesn't work anymore
Chromium has been updated to version 65.0.3325.88.
Download links for Opera Beta users:
Source: Opera
RECOMMENDED: Click here to fix Windows errors and optimize system performance