A new official announcement reveals that Microsoft is rolling out a new beta version of Outlook.com, their mail service and social network connected with the Microsoft account. A special beta program option will allow enthusiasts to join the beta testing of the service.

RECOMMENDED: Click here to fix Windows errors and optimize system performance
The following key changes were announced.
A faster experience

We're implementing a more responsive web development framework that delivers an upgraded search feature, a fresher look with a modern conversation style and a new design to let you see, read, and attach files and photos faster.

A smarter inbox

Your inbox now shows you Quick Suggestions as you type—so you can easily add information about restaurants, flights, or your favorite teams' schedules to your conversations. An improved photo experience puts all the pictures sent or received in your email in one place and makes it easier to share them with others. The new modern conversation style makes it easier to manage and preview photos and attachments.

Better personalization

You can personalize your inbox with your favorite people and folders to make it easier to find the friends, files, and conversations that matter to you and give your communications a personal touch with an easier way to access tons of expressions, including popular emojis and GIFs right inside Outlook.
To join the beta program, use the toggle switch which appears on the top right corner of your inbox. If you don't see it right now, you'll see it in the next few weeks. It's easy to move between the beta and the regular Outlook.com experience by switching the toggle back and forth.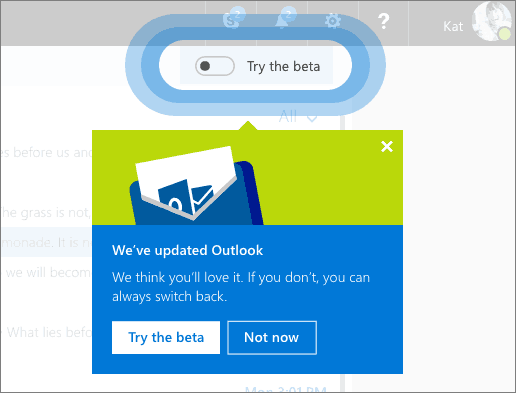 Image of the Try the beta toggle button and a dialog prompting user to try it now.
Source: Microsoft
RECOMMENDED: Click here to fix Windows errors and optimize system performance