As you may remember, Microsoft has created a series of messages to Windows 7 users by showing notifications about the support expiration. The OS is going out of support on 14th January 2020. Something similar is becoming available to Windows 10 users. The company will show notifications about end of support expiration period for certain Windows 10 versions.
RECOMMENDED: Click here to fix Windows errors and optimize system performance
A new warning message will appear on the Windows Update page in the Settings app. Windows 10 1803 or April 2018 Update is already reaching end-of-support life, so it is one of versions which already shows such a warning.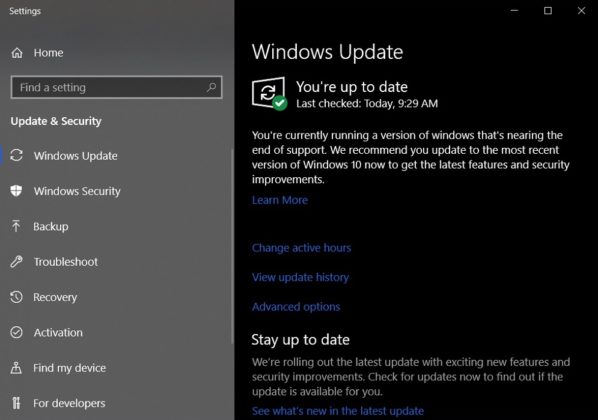 A support document explains that Microsoft plans to start enforcing updates on devices running Windows 10 version 1803. The update process started in late June 2019 and it will be enforced gradually through Microsoft's Machine Learning technology.
"We will begin updating devices running the April 2018 Update and earlier versions of Windows 10 in late June 2019 to help ensure that we keep these devices in a serviced, secure state."
Windows 10 April 2018 Update will reach end of service on November 12, 2019 for Home and Pro editions.
It is not clear yet if Windows 10 will have notification windows similar to Windows 7, or it will remain as a warning inside the Settings app. Time will tell.
This feature can be useful for users who have postponed their feature update setup, as it will inform them that their OS is not supported anymore.
Source: Windows Latest
RECOMMENDED: Click here to fix Windows errors and optimize system performance