Windows 8.1 Update 1 brings some changes to the Start screen to make it friendlier for classic Desktop users. The App Bar that appeared when you right clicked on tiles is now replaced by a new context menu. Before the update, you could select multiple tiles with just right click, but now when you right click on some tile, the rest of tiles get unselected and the Start screen shows the context menu. Let's see how to select multiple tiles using other ways.

RECOMMENDED: Click here to fix Windows errors and optimize system performance
If you need to select several tiles in Windows 8.1 Update, for example, to perform some group action on them, then you need to press and hold down the Ctrl key while you left click on the tiles. Until you release the CTRL key, the tiles will continue to get selected.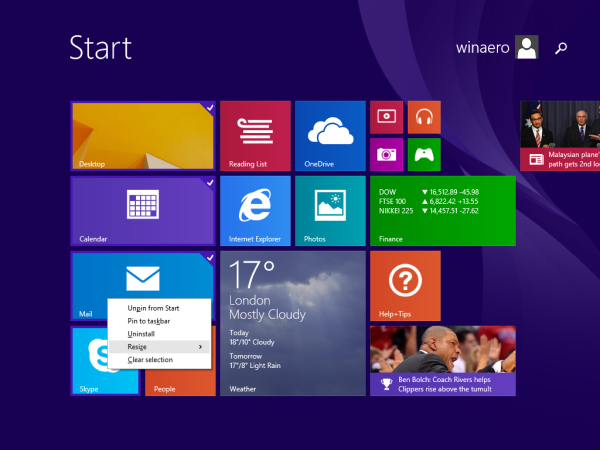 You can even right click on any selected tile(s) while you are keeping the CTRL key pressed. It will show the context menu and its actions will be applied to all selected tiles.
If you prefer exclusively using the keyboard, then you can now hold down Ctrl and use Space bar to select tiles/items on the Start screen just like you select multiple files with the keyboard in File Explorer.
That's it.