By default, the Cinnamon desktop environment has no clipboard history applet. Here is how you can add it to the panel in Cinnamon and get a useful history feature for clipboard content.

RECOMMENDED: Click here to fix Windows errors and optimize system performance
Cinnamon is Linux Mint's flagship desktop environment. It has a nice look with cool effects powered by the modern GTK+ 3 framework. It is feature rich and can be extended with plugins, desklets and applets. It is very customizable.
Its panel supports various applets. However, the useful applet to track your clipboard history is missing out of the box. Let's add it.
First of all, you need to install the Gpaste application. It is a daemon which tracks clipboard changes and a UI application which allows the user to see the history.
Install Gpaste
Now, all you need to do is add a Gpaste applet adapted for Cinnamon's panel. It is very easy.
Add a clipboard history applet to Cinnamon
Now you have a clipboard applet running in the tray area of Cinnamon's panel: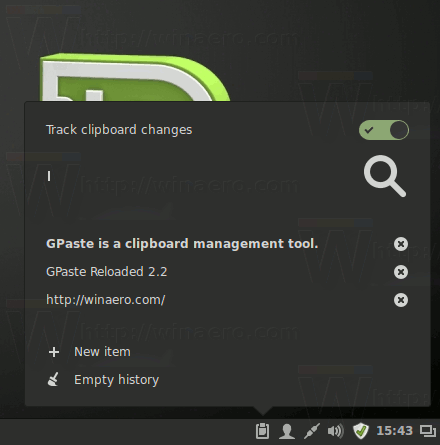 Click it to see your clipboard history. This useful applet will save you from losing some important data from the clipboard and improve the usability of the desktop environment.