High Efficiency Video Coding (HEVC), also known as H.265, is a video compression standard which succeeds H.264. While H.264 itself was a groundbreaking improvement in video compression, HEVC allows to achieve the same picture quality level as H.264/AVC, but with an even better compression. So, the file size can be smaller. This is important when dealing with 4K or Ultra HD media, especially with online media content. Storage and bandwidth are never unlimited so media file size needs to be as small as possible.
RECOMMENDED: Click here to fix Windows errors and optimize system performance
When Windows 10 Fall Creators Update was released, people expected an H.265 decoder to be included in the OS, keeping up with the times. However, there is no such decoder included by default in the OS.
So while open source apps like MPC-HC, VLC and Kodi have no issues playing back HEVC content, the Store apps that use system decoding functionality (Plex, Movies & TV, Netflix 4K) can't play HEVC videos. Microsoft has decided to not ship decoding functionality any more with the OS but it will be a downloadable codec pack whose license (free or paid) depends on your hardware.
If your device supports HEVC decoding in hardware, then you're covered by the hardware license and the codec pack for Fall Creators Update should just use that, so it will enable HEVC playback for free.
If your device does not support hardware HEVC decoding, then you have the option of getting the paid software license+decoder in the Microsoft Store.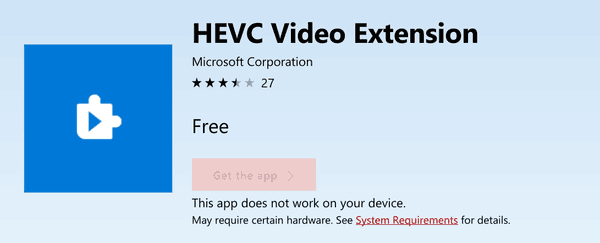 So the HEVC decoder is a separate Microsoft Store download. Here is where you get it:
If you are not using the built-in Windows apps, you have plenty of options.
Media Player Classic - Home Cinema (MPC-HC) and its derivated, MPC-BE, both already support HEVC playback. With their dual model of built-in decoders plus installable DirectShow decoders, you should have no trouble playing back H.265 content.
The popular solution VLC Media Player is an open source product which can handle any video content type. It comes with a bunch of codecs out-of-the-box. Once you install it, you can start watching your movies without any hassles.
There is also the combination of SMPlayer+Mplayer working in tandem, both open source and cross platform solutions. Like VLC, mplayer comes with a number of codecs out-of-the-box.
There is also the K-lite Media Codecs package which can add all the popular media formats support to all modern Windows versions.
So, it is up to you to decide which app to install if you don't rely on Store apps. But if you are running Windows 10 S or you absolutely rely on Store apps, then you need to go with the HEVC video extension provided in the Microsoft Store.
RECOMMENDED: Click here to fix Windows errors and optimize system performance