Mozilla Firefox users and web developers might be using its View Source feature. It allows you to see the HTML markup of the currently opened page. Until now, it always opened in a separate browser window. Starting with Firefox 41, which is currently available in the Nightly channel, this behavior has changed.

RECOMMENDED: Click here to fix Windows errors and optimize system performance
To see the source of the web page, you need to right click anywhere on the page and select "View Source". In the image below, you can see the difference between the new implementation of this feature (on the left) and old one (on the right):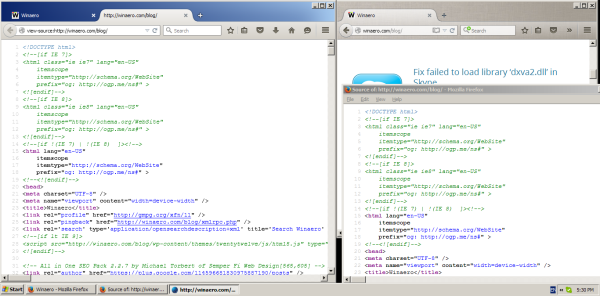 In Firefox 41, the source of the page now opens in a new tab instead of in a new window. Some users will find this change useful. However, to me it seems like Firefox is copying Google Chrome. The behavior is exactly like Google Chrome. Even the address bar uses the same internal protocol view-source:.
So, now you can type 'view-source:http://some-site.com' to view the source of the web page directly.
If you are not happy to see this change and prefer the old way to view the page source, i.e. in a separate browser window, here is how to undo this change.
How to disable the view source tab feature in Firefox
Open a new tab and enter the following text in the address bar:

about:config

Confirm that you will be careful if a warning message appears for you.

You will see the parameter view_source.tab. Set it to false.
This will disable the view source tab feature in Firefox.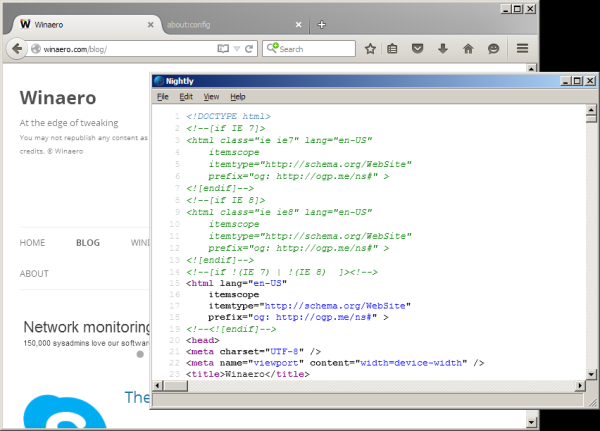 That's it. What do you think about this change? Do you like it?
RECOMMENDED: Click here to fix Windows errors and optimize system performance