Progressive Web Apps (PWAs) are web apps that use modern web technologies. They can be launched on the Desktop and look like native apps. Microsoft Edge allows installing them with ease via a special button in the address bar.
RECOMMENDED: Click here to fix Windows errors and optimize system performance
While PWAs are hosted on the Internet, the user can create a special shortcut to launch them like a regular app, or install them in Windows 10 using Microsoft Store.
Besides the Microsoft Store app, Windows users can use the certain Chromium-based browsers like Edge and Chrome to install them. When the browser detects a PWA on a web site, it allows installing it right from the main menu.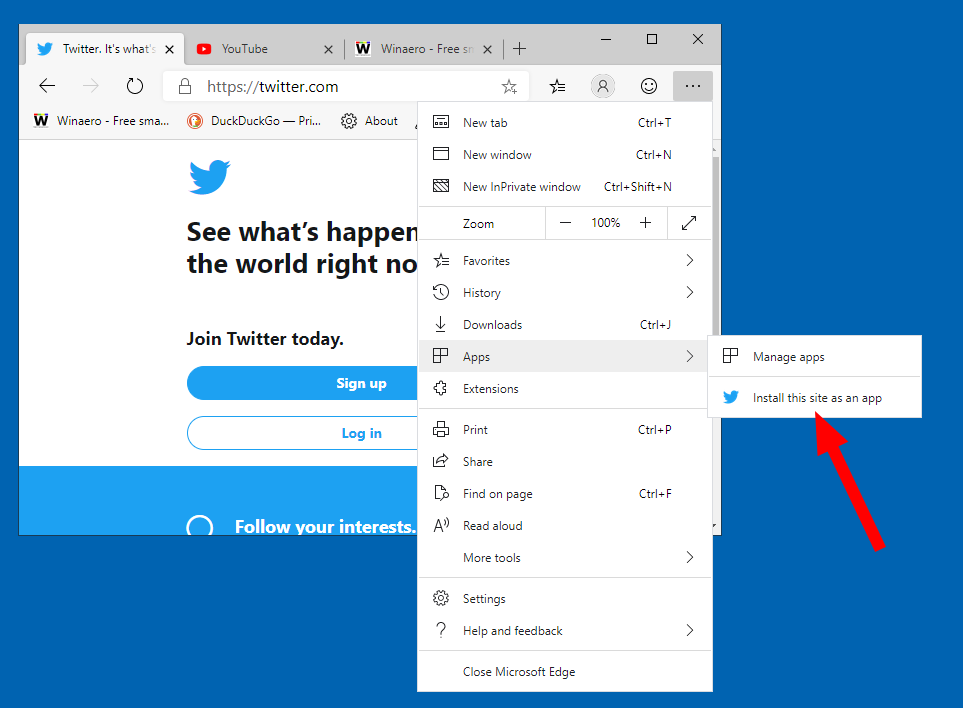 Also, the browser displays a special button in the address bar for faster access to the setup dialog.
In the latest Edge Canary (see the version list below), Microsoft has changed the design of the button from a circle with a plus to a square icon that matches the "Manage apps" entry icon in the above picture.

Also, the text label now says "App available", while the previous text was "Install app".

Actual Edge Versions
---
Download Microsoft Edge
You can download pre-release Edge version for Insiders from here:
Download Microsoft Edge Insider Preview
The stable version of the browser is available on the following page:
Download Microsoft Edge Stable
---
Note: Microsoft has started delivering Microsoft Edge to users of Windows via Windows Update. The update is provisioned for users of Windows 10 version 1803 and above, and replaces the classic Edge app once installed. The browser, when delivered with KB4559309, makes it impossible to uninstall it from Settings. Check out the following workaround: Uninstall Microsoft Edge If Uninstall Button is Grayed Out.
Thanks to Leo for the heads-up.
RECOMMENDED: Click here to fix Windows errors and optimize system performance