Controlled Folder Access is a new feature of Windows 10. It is intended to protect valuable data from malicious apps and threats, such as ransomware. If you use this feature a lot, you might want to add a special "Controlled Folder Access" context menu to quickly enable or disable this feature in Windows 10.
RECOMMENDED: Click here to fix Windows errors and optimize system performance
Controlled folder access monitors the changes that apps make to files in certain protected folders. If an app attempts to make a change to these files, and the app is blacklisted by the feature, you'll get a notification about the attempt. You can complement the protected folders with additional locations, and add the apps that you want to allow access to those folders.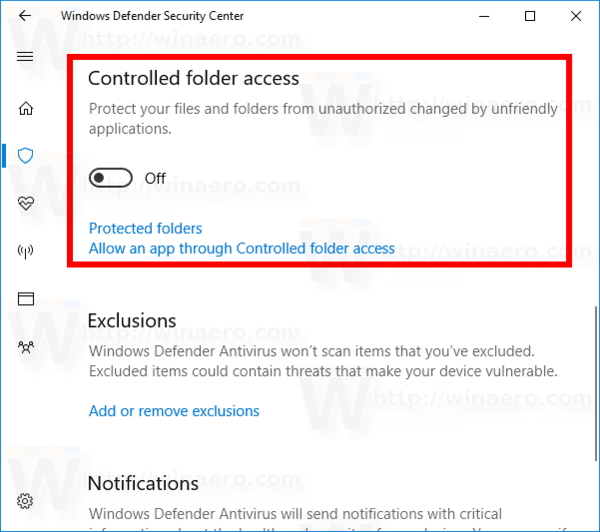 The Controlled Folder Access feature is first introduced in Windows 10 build 16232 as part of the Windows Defender Antivirus app.
Check out the following article:
Enable Controlled Folder Access in Windows 10
To save your time, you can add the 'Controlled Folder Access' context menu to the Desktop. After that, you will be able to enable or disable this feature faster without visiting the Windows Security app. The menu includes two commands to enable or disable the feature. Here is how it can be done.
Note: You must be signed in with an administrative account to continue.
To add the Controlled folder access context menu in Windows 10, do the following.
Download the following Registry files in the zip archive: Download Registry Files.
Extract them to any folder you like. You can place them right on the Desktop.
Double click the "Add Controlled Folder Access Context Menu" file.
This will add the following context menu.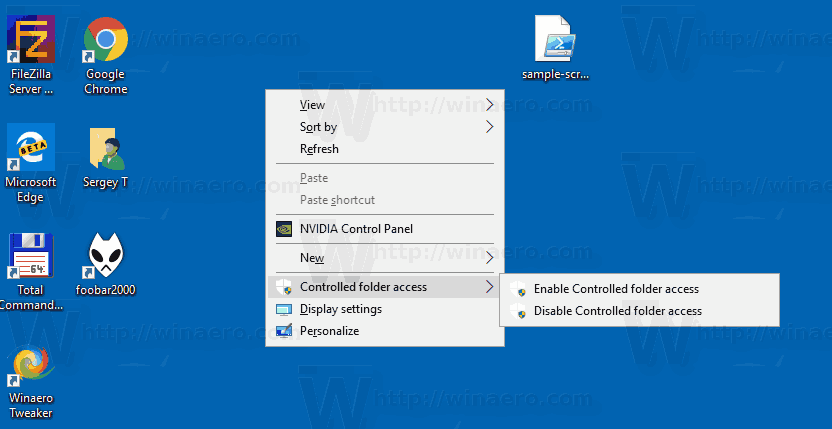 How it works
The command launches a new instance of PowerShell and executes the cmdlet Set-MpPreference. The Set-MpPreference cmdlet modifies settings for Windows Defender. Use this cmdlet to add exclusions for file name extensions, paths, and processes, and to add default actions for high, moderate, and low threats. Also, it allows changing the state of security feature, including the Controlled folder access feature. The appropriate commands look as follows.
Enable Controlled folder access:
Set-MpPreference -EnableControlledFolderAccess Enabled
Disable Controlled folder access:
Set-MpPreference -EnableControlledFolderAccess Disabled
The commands must be executed in an elevated PowerShell instance.
The undo tweak is included to the zip archive mentioned above.
Also, see the following article:
Add Allow App Through Controlled Folder Access Context Menu in Windows 10
RECOMMENDED: Click here to fix Windows errors and optimize system performance