The recently released Windows 10 build 14965 features a number of changes which do not appear in the official change log. Enthusiasts discovered some interesting changes which show the progress of certain features being built under the hood. Let's see what they are.

RECOMMENDED: Click here to fix Windows errors and optimize system performance
The Settings app
In Windows 10 build 14965, a new option appears to have been added to the Settings app. In System -> Devices, a new page "Pen & Windows Ink" was added. Currently, it contains only one setting "Show recommended app suggestions":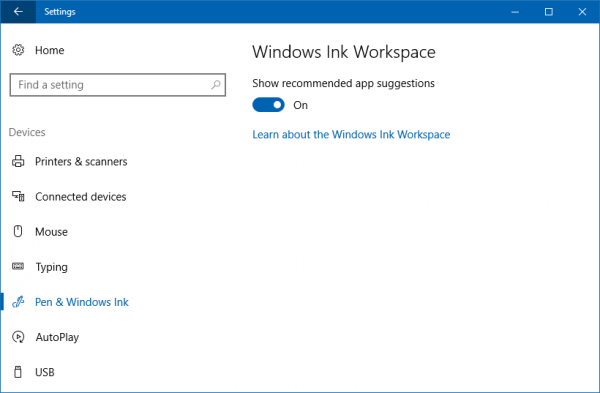 People Bar
The People Bar is a new toolbar which allows the user to pin his favorite contacts directly to the taskbar and will show all the ways to communicate with that contact.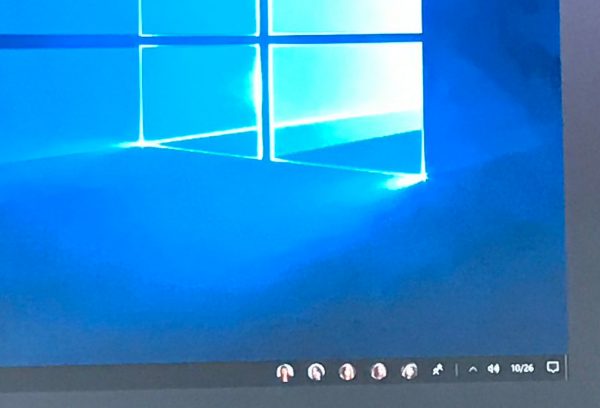 Windows 10 build 14965 is the first build with the sign of the new toolbar. It comes with the file PeopleBarFlyout.dll which is located in C:\Windows\ShellExperiences but is not yet operational.
Windows Holographic Platform
The Windows Holographic Shell (HoloShell) got updated in this build. Lots of new files and folders were added in the C:\Windows\HoloShell directory.
Hydrogen, the possible code name for the next generation of the Holographics Compositor, made its appearance in this build. For example, the following files can be found:
C:\Windows\HoloShell\Hydrogen.dll
C:\Windows\HoloShell\Hydrogen.winmd
C:\Windows\System32\HydrogenCompositor.dll
C:\Windows\System32\Hydrogen
A new app, Windows Holographic First Run, made its appearance in earlier builds of Redstone 2. It was removed just a few builds ago. Now it's back, but still has no user interface.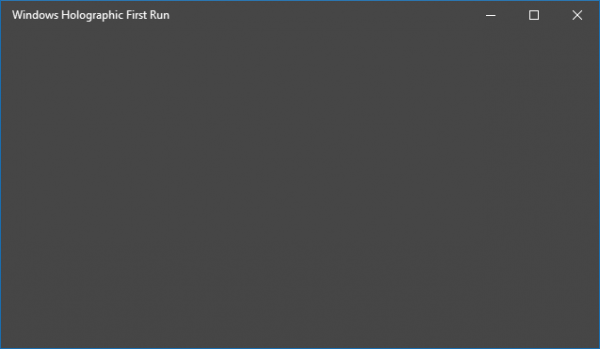 The Cloud Experience Host gained a small update in this build. The new file names of interest are:
.\js\hololensWorkAccount.js
.\js\hololensWorkAccountPage.js
.\views\hololensWorkAccount.html
Additionally, three Holographic Assets are included in the folder of the Insider Hub. The actual app isn't present. The Insider Hub app was replaced by the Feedback Hub some time ago.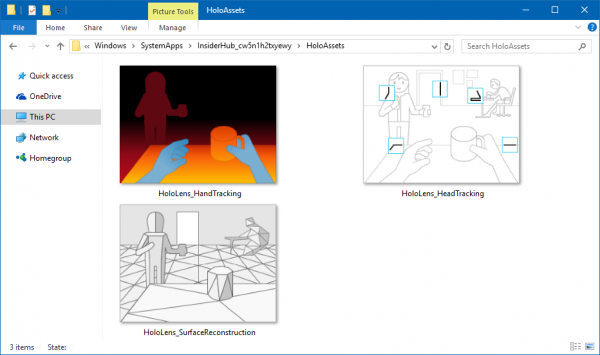 DataStore Cache Dump Tool
DataStoreCacheDumpTool.exe is a very interesting find in Windows 10 build 14965. It is an internal tool which was probably included into this release accidentally. When started from the command prompt, it shows a message "MICROSOFT INTERNAL ONLY. DO NOT SHARE EXTERNALLY.".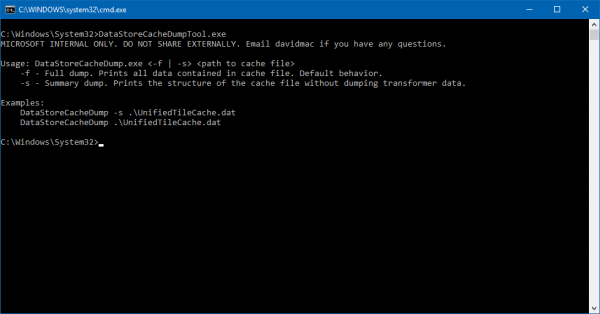 Credential Dialog Host
This is another new app in Windows 10 build 14965. It is called "creddialoghost". The name suggests that it will be used for credential prompts in the future.
That's it. Credits for these findings go to Inside Windows and their sources, @h0x0d and @tfwboredom.