Microsoft today released a new Insider Preview of Windows Server. This time it is Windows Server Build 17738. Officially known as Windows Server 2019, this release is now available for the Long-Term Servicing Channel (LTSC). The release contains both the Desktop Experience and Server Core in all 18 server languages, as well as a new build of the next Windows Server Semi-Annual Channel release in English. In addition, the preview version of Microsoft Hyper-V Server and Windows Admin Center 1808 are included with this build.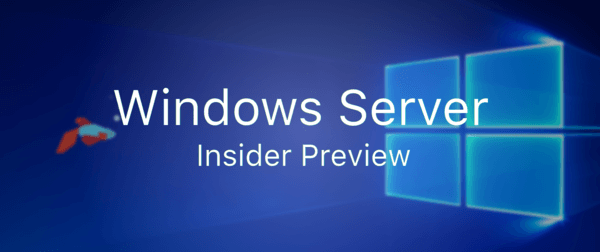 The Insider Preview program for Windows Server allows customers to try out all the new features of the upcoming OS and provide feedback on them to Microsoft.
This new build of Windows Server 2019 Insider Preview Build 17738 includes the following new features.
Host Device Access for Containers
We're adding the capability to assign simple buses to process-isolated Windows Server containers. Applications running in containers that need to talk over SPI, I2C, GPIO, and UART/COM will now be able to do so. To learn more, and to see how to leverage the feature, see Bringing Device Support to Windows Server Containers in the Virtualization Blog.
SDN High Performance Gateways
Organizations today deploy their applications across multiple clouds including on-premises private clouds, service provider clouds, and public clouds such as Azure. In such scenarios, enabling secure, high-performance connectivity across workloads in different clouds is essential. Windows Server 2019 brings huge SDN gateway performance improvements for these hybrid connectivity scenarios, with network throughput multiplying by up to 6x!!!
For more details about these improvements, please see our blog entry: Top 10 Networking Features in Windows Server 2019: #6 High Performance SDN Gateways
Available Content
Windows Server 2019 Preview is available in ISO format in 18 languages, and in VHDX format in English only. This build and all future pre-release builds will require use of activation keys during setup. The following keys allow for unlimited activations:
| | |
| --- | --- |
| Datacenter Edition | 6XBNX-4JQGW-QX6QG-74P76-72V67 |
| Standard Edition | MFY9F-XBN2F-TYFMP-CCV49-RMYVH |
Windows Server vNext Semi-Annual Preview – The Server Core Edition is available in English only, in ISO or VHDX format. The images are pre-keyed – no need to enter a key during setup.
Microsoft Hyper-V Server
Windows Admin Center Preview 1807
Symbols are available on the public symbol server – see Update on Microsoft's Symbol Server blog post and Using the Microsoft Symbol Server. As before, matching Windows Server container images will be available via Docker Hub. For more information about Windows Server containers and Insider builds, click here.
This build will expire December 14th, 2018.
Download Windows Server Insider Preview
You can download Windows Server Insider Preview here:
Download Windows Server Insider Preview
Source: Microsoft.