After years of development, I decided to release an all-in-one application which will include most options available in my free Winaero apps and extend it as much as possible. I would like to introduce
Winaero Tweaker
- universal tweaker software which supports Windows 7, Windows 8, Windows 8.1 and Windows 10.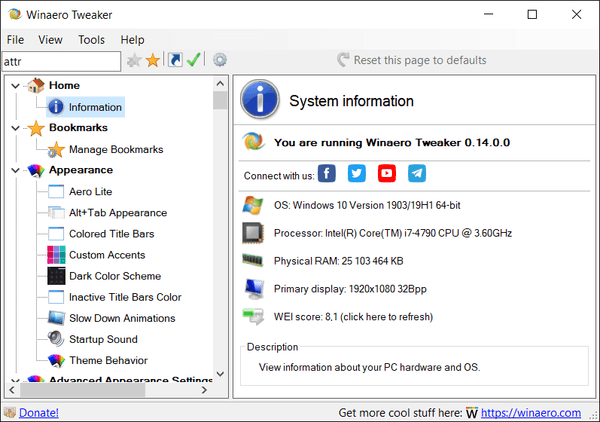 Note: the set of available options will depend on the operating system version you are running.
Version 0.16.1 is released on December 19, 2019.
Useful links for you
I got tired of having to take ownership and grant administrator privileges for protected Registry keys and files during the various tests I perform on my Windows PC. I coded ExecTI, a lightweight, tiny software, which allows you to execute a program as TrustedInstaller, then you are able to access protected resources like certain Registry keys and files owned by TrustedInstaller.
Context Menu Tuner is an application which allows you to customize Explorer's context menu in Windows 10, Windows 7, 8 and 8.1.
More screenshots are available below.
Latest version is 3.0.0.2, see the change log below.
Unlike other tools, it provides you the following options:
Ability to add ANY Ribbon command to the context menu of any file, folder, desktop or/and specific file type. This includes even commands which are not added to the ribbon by default.

Ability to add a custom command to the context menu of any file, folder, desktop or/and specific file type. You can specify the title and icon for the context menu item and add command line arguments for the application you use.

For every menu item you added you can additionally specify the following:


position: top or bottom;

separator: you will be able to add a separator before or after the context menu item;

you can prevent the context menu item from being the default action;

you can tweak the context menu item to be shown only if SHIFT key is pressed on the keyboard.



Winaero Theme Switcher is an application which allows you to change a Windows theme from the command line. It has GUI: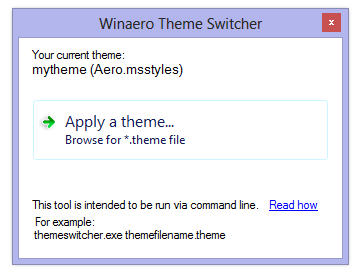 Version 1.1 is available. See the change log below.
But it is primarily intended to be used with the command prompt or in a batch file where you want to automate the applying of a custom theme.
The syntax is as follows: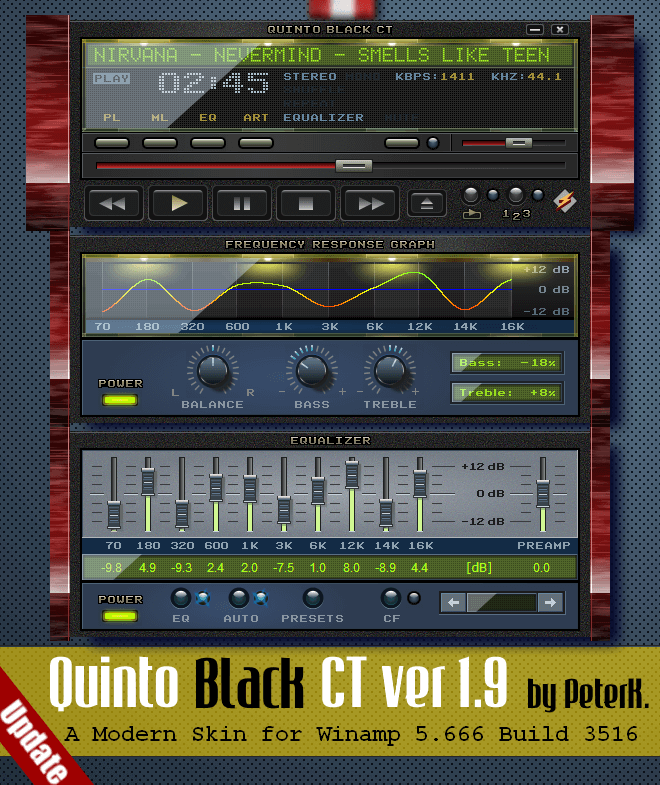 Yet another tool that i have initially created for Windows 8. Its
Ribbon Disabler
.
The latest version is 4.0, now supports all Windows 10 versions including version 1903 "May 2019 Update".
Ribbon Disabler is compatible with all Windows 10 versions, Windows 8.1 and Windows 8.
Note: If you have upgraded your OS from an earlier Windows release, please download Ribbon Disabler 3.0 first and then use it to disable the Ribbon. Don't use previous releases of Ribbon Disabler, or you will end with a black screen.
Ribbon Disabler will allow you to disable Ribbon in File Explorer and preserve Paint and Wordpad
working
. Aslo it has an option to restore ribbon.
There is no system files what will be modified by this tool.
Since version 2 the Ribbon Disabler modifies your explorerframe.dll but makes backup. It is safe.
Here is example of Explorer without Ribbon:
OneClickFirewall
is a small app which will give you the ability to block any app from accessing the Internet. It integrates with the Explorer context menu. All you need to do is right click the application you want to block and select "Block Internet Access".
Latest version: 1.0.0.2
SimpleSndVol
is the simple application what sits in your system tray near the clock and provides some useful and fast ways to control your sound volume and balance.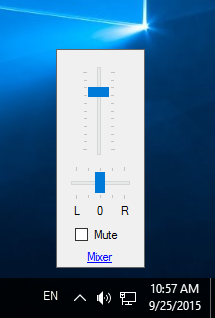 Here is the list of features:
Easy access to sound balance with one click.

Global hotkeys to change or mute volume.

Change sound volume with mouse wheel/scroll. Hover tray icon and scroll up or down. Very useful.

Middle click on tray icon will mute the sound.

Several nice icon sets for tray.
Latest version is 2.1.0.1
, see the change log below.
Personalization Panel for Windows 10 is a brand new app from Winaero which I created to bring back the familiar user interface for personalizing Windows 10. It restores the options which were removed from the desktop context menu and replaced with the Settings app.
The latest version is 2.2. Please upgrade your Personalization Panel for Windows 10. See the change log below
.
This PC Tweaker
- my brand new work.
Attention to all
Attention to all This PC Tweaker users, the Navigation Pane editor feature was dropped from the RTM release of This PC Tweaker 1.0 due to bugs and stability issues. It will be released as a separate app very soon.
Version 1.3
is available, please download a new version with Windows 10 support!
This application allows you to customize items inside the "Computer/This PC" folder and many other things
The features list of the This PC Tweaker
With This PC Tweaker, you will be able to perform the following customizations:
to add any folder to the Computer/This PC folder. Really any.

to remove any folder from the Computer/This PC folder.

to change the icon for any folder inside Computer/This PC.

to add any shell location like Administrative tools, God Mode, Network Connections

you can pin or unpin Computer/This PC items from the Navigation Pane of Explorer in Windows 8.1, Windows 8 and even in Windows 7!

You can remove or add any item from the Folders category inside the Computer/This PC folder.

to restore defaults with one click.

You can get something like this with just a few mouse clicks:
And sure, in Windows 7 too:
This PC Tweaker has access to all usable shell locations in Window and provides them for you. You will be able to add even God Mode to the "computer" folder.
Tip:
if God Mode (All tasks, all settings items) does not showing in This PC/Computer, you should log off/log in back or
restart Explorer
.
AeroRainbow is the software that can change the color of Aero windows depending on your desktop background's color, or by a predefined list of colors. It can also randomize the colors. Initially, it was designed for Windows 7 to add a more personalized touch to your desktop. Since version 2.7 you can use AeroRainbow in Windows 8. Starting with version 4.0, AeroRainbow supports Windows 10.
AeroRainbow 4.1 is available. Please upgrade your app.
For unknown reasons, Windows always had a set of hidden features which can affect the X-Mouse feature behavior. Xmouse is a feature which allows the focus of windows to follow the mouse pointer, meaning, as you move the mouse pointer around, the window which is under the mouse pointer becomes the active window. In Windows Vista and later versions such as Windows 7, and Windows 8/8.1, Microsoft added
a built-in option to turn on Xmouse
, but it is very basic. I decided to create an advanced tweaking software for the XMouse feature.
The latest version is 1.0.0.1, see the change log below.
Most annoying thing in Windows 8's appearance, beside Metro and Charms Bar of Desktop, is transparent Taskbar. It does not fit the opaque window frames and looks ugly.
I decide to fix it.
Last night my friend Tihiy, the author of
StartIsBack
solution, has shared with me the way to disable tasbkar transparency via DWM API. So I have created
Opaque Taskbar for Windows 8
.
Latest version is 2.7, see the change log below.
With v2.5 I decide to provide x64 version, for those who have removed x86 .NET components in x64 OS.
With help of this simple and lightweight application you will be able to make your taskbar Opaque in any time you want it. Also it can optionally run in the background or it can run once and then exit without taking memory. You can close it after you have disabled the transparency.
Earlier this year, we covered
how you can get back the Startup sound played
during logon in Windows 8 and Windows 8.1. It requires you to complete several steps manually which can be quite tedious for some users. A number of our readers had issues following all the steps correctly.
So to make things simple, I decided to create Startup Sound Enabler for Windows 8. This app will allow you to assign a startup sound with just one click! It does the job of creating the script with the sound you pick and setting it up in Task Scheduler automatically.