Here's how to remove the shortcut arrow icon in Windows 11, also known as shortcut arrow overlay icon. By default, every shortcut has such an overlay icon to differentiate them from other files. You can disable it or replace with a custom icon of your choice.
By default, Windows 11 shows a square white semi-transparent icon with a light blue arrow in the bottom left corner of the shortcut icon. See the following screenshot.
While it is relatively easy to get rid of that icon or to replace it with a custom one, Windows 11 doesn't include the appropriate option anywhere in the GUI. Luckily, we have two alternative solutions for those who need to customize the icon.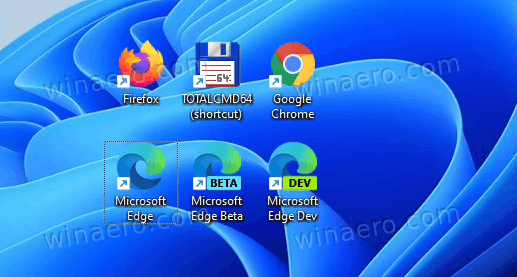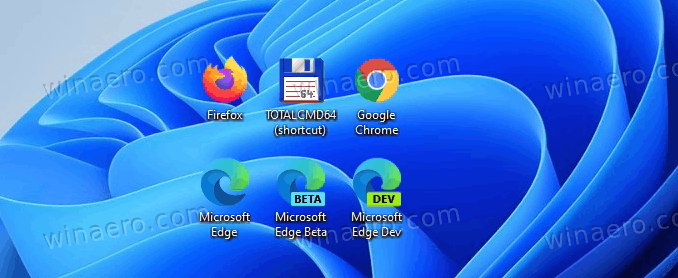 If you are not happy to see the shortcut overlay icon, here is how you can disable it.
Remove Shortcut Arrow from Shortcuts in Windows 11
Download the following ZIP archive. It contains an ICO file with an empty icon.
Extract the archive contents to any convenient location. You'll also find a couple of ready-to-use REG files.
Copy the blank.ico file to the C:\Windows\blank.ico location. Click Continue when prompted.
Double-click the remove-shortcut-overlay-icon.reg file and click Yes in the User Account Control confirmation to add the change to the Registry.
Finally, restart the Explorer to remove the shortcut arrow overlay icon.
You are done! The shortcut arrow will disappear from all shortcuts in Windows 11.
The undo.reg tweak is included in the ZIP archive you have downloaded. Double-click it and restart Explorer to restore the default icon.
If you prefer to do tweaks manually, or for better understanding things, here's how it works.
How does it work
The provided Registry files will modify the following Registry branch:
HKEY_LOCAL_MACHINE\SOFTWARE\Microsoft\Windows\CurrentVersion\Explorer
To redefine the shortcut arrow overlay icon, here you need to create a new subkey named Shell Icons.
Finally, under the HKEY_LOCAL_MACHINE\SOFTWARE\Microsoft\Windows\CurrentVersion\Explorer\Shell Icons path, you need to create a new string (REG_SZ) value and name it as 29.

Set the value data of the 29 value to the full path to the blank.ico file. In our case it is  C:\Windows\blank.ico.
The only thing left is to restart the Explorer shell to make Windows 11 use our new shortcut overlay icon. I would like to note that this tweak reliable works in all Windows versions starting in Windows XP.
That's obvious that instead of the blank icon file you can use some custom overlay icon. For instance, you can re-use the classic Windows 10 icon, or even restore the tiny black-and-white icon from Windows XP. Or you can find some really beautiful icon file and use it as your shortcut overlay.
Instead of changing the Registry manually, you can save your time and go with Winaero Tweaker. It will allow you to customize the icon with just a couple of clicks.
Customize the shortcut overlay icon
Download Winaero Tweaker using this link.
Launch the app and go to Shortcuts > Shortcut Arrow.
Set it to either Windows Default, classic arrow, or to a custom icon.
By selecting No arrow, you will remove the shortcut arrow icon from Windows 11 shortcuts.
You are done!
The following image demonstrates a custom shortcut overlay icon:

That's it.
Support us
Winaero greatly relies on your support. You can help the site keep bringing you interesting and useful content and software by using these options:
If you like this article, please share it using the buttons below. It won't take a lot from you, but it will help us grow. Thanks for your support!