As the official web site of Winamp does not have links to download skins and plugins nor the Winamp 5.6.6.3516 installer, I would like to share with you a huge collection of Winamp skins, plugins and the installer here at Winaero. Winamp's website says it is coming soon but it's been months since it was pulled and even if it makes a comeback, we are not sure if all of Winamp's features are going to be intact, and if the skins and plugins are still going to be compatible. In my personal collection, i have over 500(!!) skins and lots of plugins.

Winamp is one of the most popular media players available for Windows. It's also one of the oldest ones. From my personal experience, it is one of the most versatile and feature-rich media players, has an enormous variety of plugins and skins available and is stable enough for every day use.
It runs fast and plays with a clean sound powered by a graphic equalizer.
Here is how you can get back the Winamp experience.
Download Winamp 5.6.6.3516 stable or Winamp 5.7.0.3444 beta
If you need the latest Winamp publicly available, click here to get it.

It is the untouched, original Winamp 5.6.6.3516 installer released by AOL/Nullsoft.
If you want to try Winamp 5.7.0.3444 beta, click here. It is also the genuine, unmodified installer.
Install either the last stable or the beta version.
Download skins
Get the skins you like from this gallery. This is my favorite skin: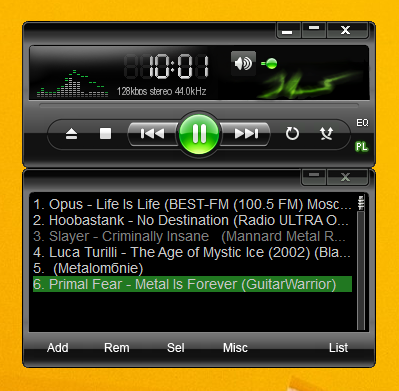 You can pick any skin you like from 500+ skins in my collection.
Download plugins
Get the necessary plugins from here (200+ plugins: coming soon).
Also, I have a Winamp Essentials Pack Installer.
Winamp Essentials Pack is a set of plug-ins provided by developers of Winamp and recommended to be always installed with Winamp.
Winamp Essentials Pack contains :
- Ogg Vorbis Encoder
- Apple Lossless (alac) Decoder
- WavPack Decoder
- Waveform Wrapper
- Lite-n Winamp Preferences
- ML Enqueue & Play
- Time Restore & Autoplay
- Skin Manager
- Album Art Viewer
- Playlist Undo
- Find File On Disk
- Unicode Taskbar Fixer
Enjoy your revived Winamp experience!
Note: All copyrights are reserved by their respective owners. Winamp was the property of AOL. All skins credits go to their authors. It is being revived in the community spirit.