Microsoft today released a new Insider Preview of Windows Server. This time it is Windows Server Build 17744. Officially known as Windows Server 2019, this release is now available for the Long-Term Servicing Channel (LTSC). The release contains both the Desktop Experience and Server Core in all 18 server languages, as well as a new build of the next Windows Server Semi-Annual Channel release in English. In addition, the preview version of Microsoft Hyper-V Server and Windows Admin Center 1808 are included with this build.
RECOMMENDED: Click here to fix Windows errors and optimize system performance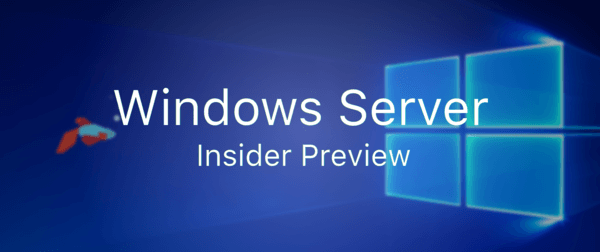 The Insider Preview program for Windows Server allows customers to try out all the new features of the upcoming OS and provide feedback on them to Microsoft.
This new build of Windows Server 2019 Insider Preview includes the following new features.
Microsoft Hyper-V Server: Improvements
For Windows Server 2019, Microsoft Hyper-V Server provides a robust, optimized enterprise-class virtualization platform that enables improved server utilization and reduced costs. This preview release of Microsoft Hyper-V Server includes various updates and fixes including:
Installation no longer prompts for a product key. Microsoft Hyper-V Server is an enterprise hypervisor that is provided at no additional cost.
Administrators are now properly prompted to change their passwords when initially signing in.
Updated installation branding.
Microsoft Hyper-V Server 2019 also includes additional features such as:
Failover Clustering hardening. Failover Clustering no longer requires the use of NTLM.
Server Message Block (SMB) hardening. SMB 1.0 is disabled by default.
Windows Subsystem for Linux is built in.
Windows Defender Advanced Threat Protection is built in.
.NET Framework 4.7 is built-in. (Microsoft Hyper-V Server 2016 included .NET Framework 4.6).
Finally, Microsoft Hyper-V Server can be fully managed by Windows Admin Center to provide a modern, remote management solution that integrates with Azure Backup, disaster recovery, and more.
Available Content
Windows Server 2019 Preview is available in ISO format in 18 languages, and in VHDX format in English only. This build and all future pre-release builds will require use of activation keys during setup. The following keys allow for unlimited activations:
| | |
| --- | --- |
| Datacenter Edition | 6XBNX-4JQGW-QX6QG-74P76-72V67 |
| Standard Edition | MFY9F-XBN2F-TYFMP-CCV49-RMYVH |
Windows Server vNext Semi-Annual Preview – The Server Core Edition is available in English only, in ISO or VHDX format. The images are pre-keyed – no need to enter a key during setup.
Microsoft Hyper-V Server
Windows Admin Center Preview 1807
Symbols are available on the public symbol server – see Update on Microsoft's Symbol Server blog post and Using the Microsoft Symbol Server. As before, matching Windows Server container images will be available via Docker Hub. For more information about Windows Server containers and Insider builds, click here.
This build will expire December 14th, 2018.
Download Windows Server Insider Preview
You can download Windows Server Insider Preview here:
Download Windows Server Insider Preview
Source: Microsoft.
RECOMMENDED: Click here to fix Windows errors and optimize system performance