Once Vivaldi 1.11 was released to the stable branch, the next version of the browser reached the developer branch. A new snapshot of the upcoming version 1.12 of Vivaldi comes with Image Inspector -  a new feature which shows complete metadata about the image.

RECOMMENDED: Click here to fix Windows errors and optimize system performance
A new developer snapshot, version 1.12.955.3, allows you get more details about the picture you see in the browser. You can right click the image and select Inspect Image in the context menu. See the following screenshot: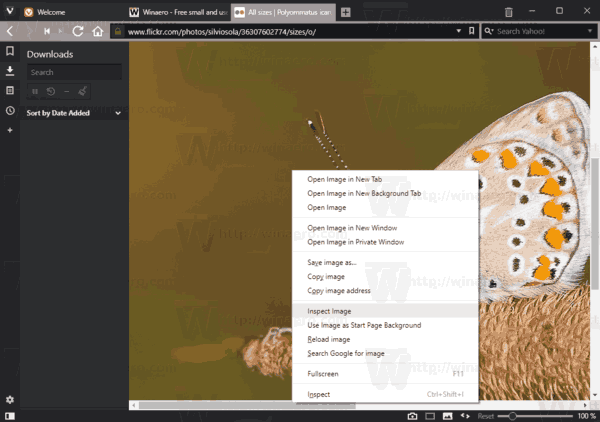 A new pane will be opened. It will display a lot of parameters like white balance, color temperature, histogram, camera name, dimension,  size etc.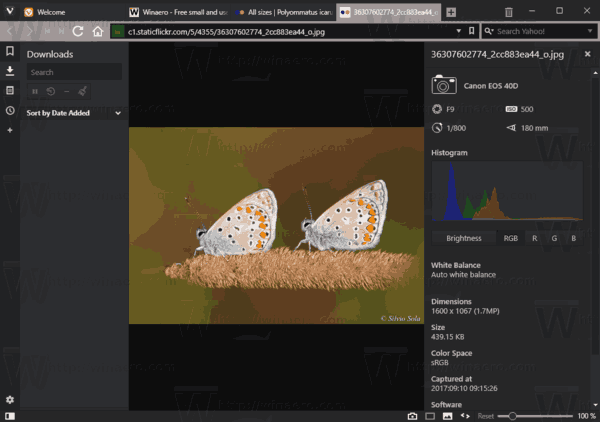 The official announcement states the following:
This new feature lets you dive into the general attributes of the picture. Vivaldi will display all the information available based on the image meta data. It provides properties such as the camera brand, white balance, color temperature (kelvin), histogram, image dimension, file size etc.

We are confident that photography bloggers and enthusiasts are going to love this new feature, but that does not stop all of you who are curious to know more about your favorite pictures on various websites.
Other highlights in the change log are as follows.
[New Feature] Inline image inspector (VB-3075)
[Regression][Mac][Linux] Prevent mute button from disappearing on youtube videos (VB-32486)
[Regression] Session list is not visible in open session dialog (VB-32532)
[Downloads] More download panel info (VB-6942)
[Media] Platform media broken on macOS 10.13 (beta) (VB-32098)
To try the latest build of Vivaldi, use the following download links.
Source: Vivaldi.
RECOMMENDED: Click here to fix Windows errors and optimize system performance