With Windows 7, Microsoft has introduced Libraries: a wonderful feature of the Explorer shell, that allows you to group multiple folders in a single view, even if they are located on different volumes. Searching through Libraries is also very fast, because Windows performs indexing of all locations which are included inside a Library. In this article, we will review how to completely restore the default settings of a library in Windows 10.
RECOMMENDED: Click here to fix Windows errors and optimize system performance
By default, Windows 10 comes with the following libraries:
Documents
Music
Pictures
Videos
Camera Roll
Saved Pictures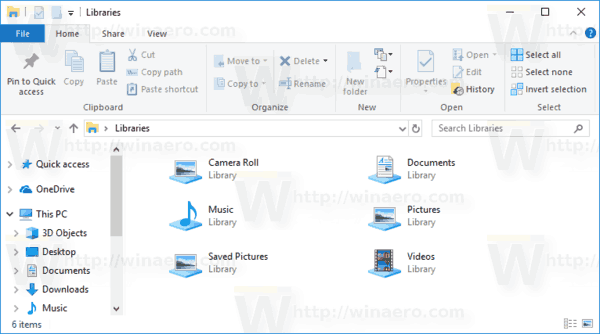 Note: If the Libraries folder is not visible in your File Explorer, see the article:
Enable Libraries in File Explorer navigation pane in Windows 10
The following libraries are pinned to the navigation pane by default:
Documents
Music
Pictures
Videos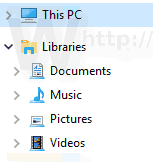 Also, check out how to move Libraries above This PC in Windows 10.
Windows 10 allows adding up to 50 locations to a library. You can add a local drive to a Library, an external USB drive or an SD card (starting in Windows 8.1), a network location (using Winaero Librarian but it won't be indexed). Also, you cannot add a DVD drive. These are limitations by design.
To the restore default settings of a library in Windows 10, do the following.
Navigate to your Libraries folder with File Explorer. Tip: Even if you don't have Libraries in the navigation pane on the left, you can press the Win + R keys and type shell:Libraries into the Run box. Learn more about shell: commands.
Right-click a library and select Properties in the context menu.
In Properties, click on the Restore Defaults button.
Click on the OK button to apply.
You are done.
Alternatively, you can use the Manage Library dialog. It is accessible through the Ribbon.
Remove a folder from a library with the Manage Library dialog
Select the desired library in the Libraries folder.
In the Ribbon, go to the Manage tab will appear under Library tools.
Click on the Restore settings button in the ribbon.
That's it.
Related articles:
RECOMMENDED: Click here to fix Windows errors and optimize system performance