A new developer build of Opera 63 is released today. Version 63.0.3347.0 includes a brand new feature that allows searching through Speed Dial tiles.
RECOMMENDED: Click here to fix Windows errors and optimize system performance
Speed Dial Filtering
This new feature allows the user to quickly access any matching Speed Dial tile by typing in the address bar.
Once you start typing words matching a Speed Dial name, the matching tile names will appear at the bottom of the dropdown. When more than one Speed Dial is found you can switch between them using ctrl+alt+left/right.  See the following animation: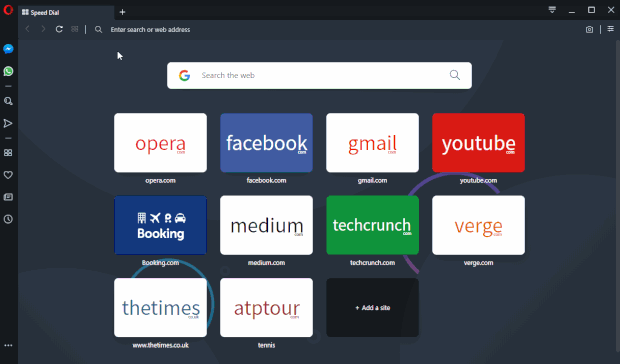 Other changes
CHR-7242 Fix memory leaks in TtsControllerTest.
CHR-7424 Update chromium on master to 76.0.3800.0
DNA-75858 delta-homes.com is not redirecting to google.com
DNA-77479 Split the rules read & decode in separate entities
DNA-77578 [Mac] Crash at -[BookmarkFolderController showMenuForParentButton]
DNA-77795 Tabs font colour is too light [light mode]
DNA-77837 Create expression parser using bison
DNA-77864 Quitting Opera shows 'Close Window' warning when quit warning is disabled
DNA-77962 Zombie received -currentTab
DNA-78039 [Dark mode] Scroll bar on opera://flags is broken.
DNA-78270 [Mac] Memory leak
DNA-78290 Adapt CryptoWallet welcome / pairing page to Opera Touch for iOS
DNA-78293 Implement user interface that shows user's speed dials
DNA-78315 Refactor mnemonics code to avoid copying views::MenuButton
DNA-78329 [CryptoWallet] Private key should not be stored in plain text nor being synced
DNA-78403 Crash at gfx::`anonymous namespace"::HSLImageSource::~HSLImageSource
DNA-78406 Extensions overflow chevron appears after extension installation
DNA-78480 [mac] Battery icon is emptied on wrong side
DNA-78490 Broken dependency in desktop/mac/opera_crash_handler/crash_handler
DNA-78502 Reload page button on toolbar doesn't work on Mac
DNA-78513 Remove PageViewCollectionObserver::OnPageViewCollectionClearing
DNA-78535 Remove PageViewCollectionObserver::OnPageViewDeactivating
DNA-78536 Do not show text shadow below tiles in the folder
DNA-78541 Improve page load speed on Downloads page
DNA-78543 [Mac] badge icons are blue in address bar
DNA-78547 Remove unused opera_components/utility directory
DNA-78557 [Linux] OSCrypt is not initialized before being used in crypto wallet
DNA-78575 [Win7] Arrows are not visible
DNA-78582 Make fix_deps preserve comments
DNA-78614 [MAC] Crash when closing browser with adblocker popup.
DNA-78619 ThemeCreateRequestUtilsTest does use-after-free
DNA-78655 Tiles are center aligned after the most recent intake
DNA-78667 Enable for developer
DNA-78671 prefers_color_scheme broken after chromium intake
DNA-78678 Remove PageViewCollectionObserver::OnPageViewPreActivated
Download links
Source: Opera
RECOMMENDED: Click here to fix Windows errors and optimize system performance