In the Windows OS, sometimes you may want to to resize a window to an exact size or move it to a specific position on the screen. This is useful, for example, when you need to create a screenshot, or insert an image of the window in a Word document. The manual way of resizing the window or repositioning it is neither convenient nor fast, because Windows does not provide a fast method to set the window size or move the window to a particular position. Today we will see how to quickly set a window to a specific size or reposition it instantly.

RECOMMENDED: Click here to fix Windows errors and optimize system performance
There is a free portable tool called "Sizer" which does exactly what we need.
Using Sizer, we can set any desired size for a specific opened window. Sizer can also help you reposition windows.
Go and download Sizer from HERE.
Unzip all files to any folder (for example, I am using the C:\Apps\Sizer folder). Now run the sizer.exe file:

Sizer will appear in your notification area (system tray) near the taskbar:

Right click its icon and choose "Configure Sizer" from the context menu. Adjust the sizes that you need for various windows, enter a description and click OK. You can also set the window's position if you want to any specific pixel on your active monitor or relative to the whole work area. I also recommend you to assign a hotkey so you can resize and/or reposition the window instantly and quickly:

Now, to quickly resize/reposition a window, click its top left icon to show the window menu. If the window does not have an icon in the title bar, press the Alt + Space shortcut keys on your keyboard. Alternatively, you can just right click the window's button on the taskbar.Pick the Resize/Reposition item from the window menu:

Pick the desired size/position combination from the menu that you set earlier.
Or if you assigned a hotkey, then press it directly.
That's it. The current window will be resized or repositioned instantly. This is the fastest way to set a specific size for an opened window.
Sizer is an outstanding app. It also shows you a tooltip when you resize a window so you can set the exact dimensions, and conveniently snaps the window while resizing.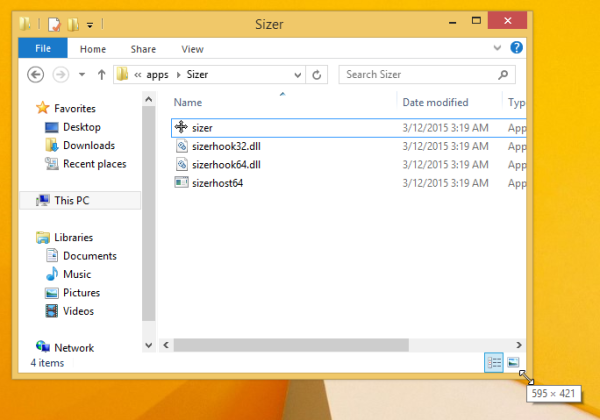 If you know another good alternative to the Sizer app, please share it in the comments. Thanks in advance.