Today, we'll see all possible ways to find if your Windows 10 is activated. Activation is required for all modern versions of the Windows to verify that the license is genuine. It also unlocks all its features like personalization which are blocked for unactivated copies.

RECOMMENDED: Click here to fix Windows errors and optimize system performance
To check the activation state of the Windows 10 operating system, you have a number of tools. Most of them are built-in apps, but you can also use a couple of console commands. Here's what you need to do.
To find if Windows 10 is activated, use Settings.
Open the Settings app.
Go to the following page: Update & security - Activation
On the right, look at the line "Activation". It reflects the current state of the operating system.
The same information can be retrieved from the classic System Information applet in the Control Panel.
Open the classic Control Panel.
Go to Control Panel\System and Security\System.
On the right side of the opened page, look at the section "Windows activation". It shows if Windows 10 is activated.
Finally, you can use the command line to retrieve the activation state.
Open a new command prompt instance and type:
slmgr.vbs /xpr
Wait for a few seconds. A message box will appear which will show the status of Windows activation.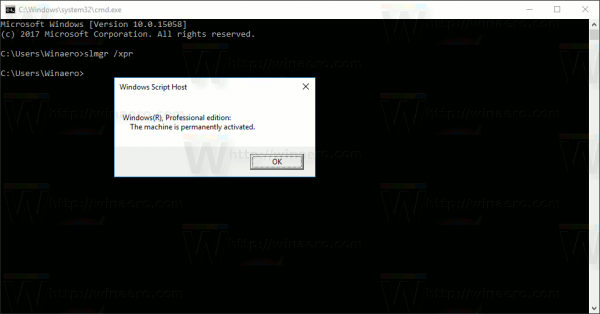 Tip: Instead of using the command prompt, you can also type or copy-paste the slmgr.vbs /xpr command in the Run dialog. Press Win + R and enter the command in the Run dialog.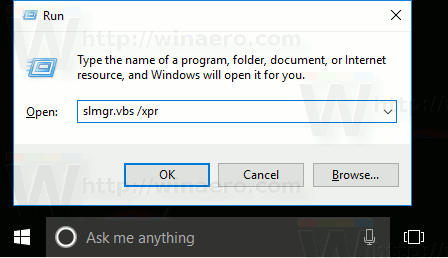 Additionally, you might be interested in learning about the types of licenses available for Windows 10. Refer to the article: Find If Windows 10 License Type is Retail, OEM, or Volume.
Note: Starting with Windows 10 build 14371, you can link your Windows 10 license to a Microsoft Account. Here is how it can be done: How to link your Windows 10 license to a Microsoft Account.