Windows 10 comes with a new default browser, Microsoft Edge.  It's a Universal app which has extension support, a fast rendering engine and a simplified user interface. Today, I will share all Microsoft Edge keyboard shortcuts available in Windows 10. Here we go.
RECOMMENDED: Click here to fix Windows errors and optimize system performance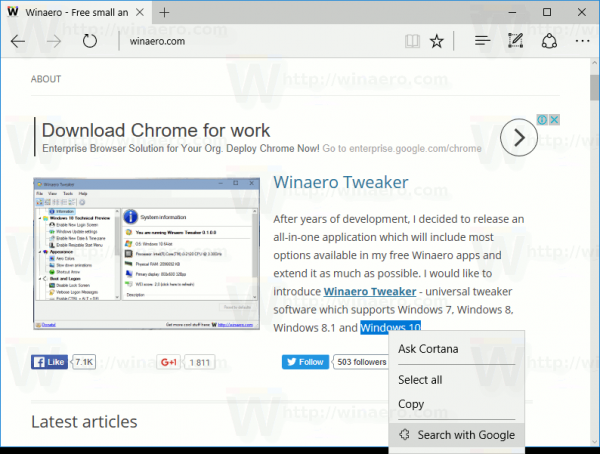 Here is the full list of keyboard shortcuts for Edge in Windows 10. Bookmark this page if you can't remember all of them so you can refer to it every time you want to learn a new hotkey.
Zoom
Ctrl + + Zoom in
Ctrl + - Zoom out
Ctrl + 0 Zoom to 100%
Tabs and windows

Ctrl + 1 Switch to the tab #1
Ctrl + 2 Switch to the tab #2
Ctrl + 3 Switch to the tab #3
Ctrl + 4 Switch to the tab #4
Ctrl + 5 Switch to the tab #5
Ctrl + 6 Switch to the tab #6
Ctrl + 7 Switch to the tab #7
Ctrl + 8 Switch to the tab #8
Ctrl + 9 Switch to the last tab
Ctrl + Tab Switch to the next tab
Ctrl + Shift + Tab Switch to the previous tab
Ctrl + Shift + K Clone the current tab in the background
Ctrl + K Duplicate the current tab
Ctrl + Shift + T Reopen the last tab you closed
Ctrl + T Open a new tab
Ctrl + W Close the current tab
Ctrl + F4 Close the current tab
Ctrl + N Open a new window
Alt + Spacebar Open the system menu
Alt + Spacebar + C Close Microsoft Edge
Alt + Spacebar + M Move the browser window with arrow keys
Alt + Spacebar + N Minimize the browser window
Alt + Spacebar + R Restore the browser window
Alt + Spacebar + S Resize the browser window using arrow keys
Alt + Spacebar + X Maximize the browser window
Alt + F4 Close the current active window
Scrolling and Navigation
F7 Toggle the Caret browsing mode
Alt + D Move focus to the address bar
F4 Move focus to the address bar
Ctrl + L Move focus to the address bar
Left arrow Scroll left on the current web page
Right arrow Scroll right on the current web page
Up arrow Scroll up on the current web page
Down arrow Scroll down on the current web page
Backspace Go to the previous page that was opened in the current tab
Ctrl+click Open a link in a new tab
Ctrl + Shift + click Open a link in a new tab and switch to the tab
Alt + Shift + click Open a link in a new window
Ctrl + Enter Add www. to the beginning and .com to the end of the text typed in the address bar
Ctrl + Shift + L Open the address bar query in a new tab
Ctrl + Shift + P Open a new InPrivate browsing window
Ctrl + E Open a search query in the address bar
Alt + Left arrow Go to previous page that was opened in the current tab
Alt + Right arrow Go to next page that was opened in the current tab
Ctrl + R Reload the current page
F5 Reload the current page
End Move to the bottom of the page
Esc Stop loading the page
Home Move to top of page
Tab Move forward through the items on a web page
Shift + Tab Move back through the items on a web page
Options and features
Alt + C Open Cortana
Alt + J Feedback & reporting
Alt + X Open Settings
Ctrl + Shift + B Toggle the Favorites bar
Ctrl + Shift + R Toggle the Reading view
Ctrl + Shift + Delete Open the clear browsing data pane
Ctrl + D Add the current site to Favorites
Ctrl + H Open History
Ctrl + I Open Favorites
Ctrl + J Open Downloads
Ctrl + P Print the current page
F12 Open Developer Tools
Text functions
Ctrl + A Select all
Ctrl + F Find some text on the current page
RECOMMENDED: Click here to fix Windows errors and optimize system performance