Windows provides both a device-based speech recognition feature (available through the Windows Speech Recognition Desktop app), and a cloud-based speech recognition service in those markets and regions where Cortana is available. By default, Speech Recognition is designed to review your documents and email so that it learns words and phrases to better understand you when you speak. If you are not happy with its default settings, here's how to disable the Document Review feature for Speech Recognition in Windows 10.
RECOMMENDED: Click here to fix Windows errors and optimize system performance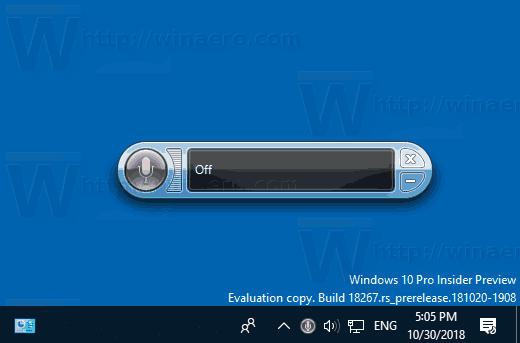 Windows Speech Recognition lets you control your PC with your voice alone, without needing a keyboard or mouse. There's a special wizard to help you get started. You need to plug in your microphone, and then configure Windows Speech Recognition. Speech Recognition is a nice addition to the dictation feature of Windows 10.
Speech Recognition is only available for the following languages: English (United States, United Kingdom, Canada, India, and Australia), French, German, Japanese, Mandarin (Chinese Simplified and Chinese Traditional), and Spanish.
To disable Document Review for Speech Recognition in Windows 10, do the following.
Enable the Speech Recognition feature.
Open the classic Control Panel app.
Go to Control Panel\Ease of Access\Speech Recognition.
On the left, click on the link Advanced speech options.
In the Speech Properties dialog, turn off (uncheck) the option Review documents and mail to improve accuracy. 
You are done. The option can be disable at any moment.
Alternatively, you can enable or disable this feature with a Registry tweak. Let's see how it can be done.
Disable Document Review with a Registry Tweak
Download the following ZIP archive: Download ZIP archive.
Extract its contents to any folder. You can place the files directly to the Desktop.
Double click on the Disable Document Review For Speech Recognition.reg file to merge it.
To remove the entry from the context menu, use the provided file Enable Document Review For Speech Recognition.reg.
You are done!
How it works
The Registry files above modify the Registry branch
HKEY_CURRENT_USER\Software\Microsoft\Speech\Preferences
Tip: See how to go to a Registry key with one click.
To disable the Document Review feature, modify or create a new 32-bit DWORD value EnableDocumentHarvesting under the mentioned path and set its value data to 0. Note: Even if you are running 64-bit Windows you must still create a 32-bit DWORD value.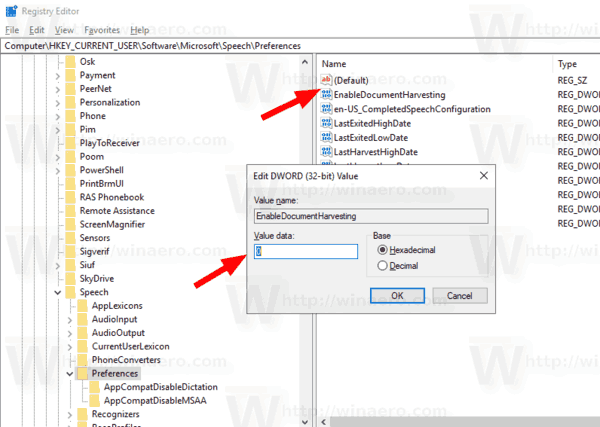 To enable the feature, set the EnableDocumentHarvesting value to 1 (this is used by default in Windows 10).
That's it.
Related articles:
RECOMMENDED: Click here to fix Windows errors and optimize system performance