Previously there was an issue in Windows 10 that title bars were not colored at all. This outrageous design was changed by the TH2 update so colored title bars became available like all previous releases of Windows. But the title bar of a window when it becomes inactive/unfocused still cannot be easily changed. Many users are looking for a way to change the color of inactive title bars in Windows 10. With Windows 10 November Update, it too became possible although Microsoft has not documented it. Read this article to learn how it can be done.

RECOMMENDED: Click here to fix Windows errors and optimize system performance
To adjust the
color of inactive title bars in Windows 10
, you need to do the following.
Go to Personalization - Color and turn on the option "Show color on Start, taskbar, action center, and title bar" if it is not enabled.
Turn off the option "Automatically pick an accent color from my background" if enabled.
Now, pick a color you want to apply to the title bar of inactive windows. It will be applied to the active window's title bar. Don't worry about that - it is exactly what we need. In my case, I want to get the following appearance: dark green title bar for active windows and light green title bar for inactive windows. So I will pick the light green color:
Now, open Registry Editor.
Go to the following Registry key:

HKEY_CURRENT_USER\SOFTWARE\Microsoft\Windows\DWM

Tip: See how to jump to the desired Registry key with one click.

Create here a new 32-bit DWORD value named AccentColorInactive. Note: If you are running 64-bit Windows 10, you still need to create a 32-bit DWORD value. Don't set any AccentColorInactive value data yet.
Double click the value named AccentColor which already exists in the DWM subkey. Copy its value. Then double click the value AccentColorInactive you just created and paste the copied value to AccentColorInactive as shown below:

Now, return to the Settings app and set another color for active windows again. As I mentioned above, I want a dark green color for active window title bars:
You are done! This was the appearance before the tweak: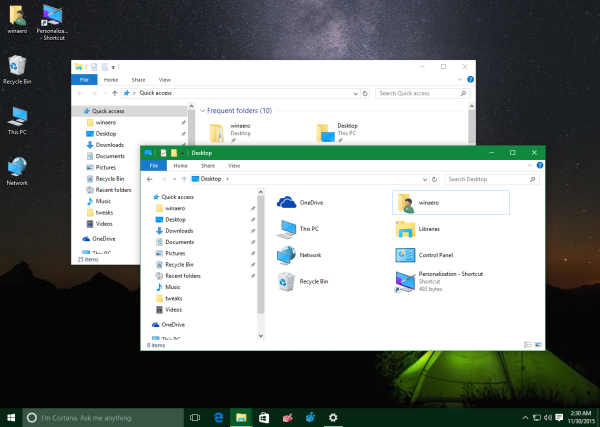 After: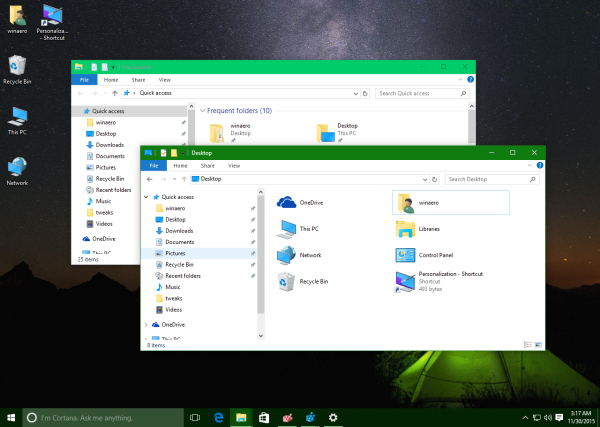 To save your time, you can use my freeware Winaero Tweaker. The appropriate option is already available in the app: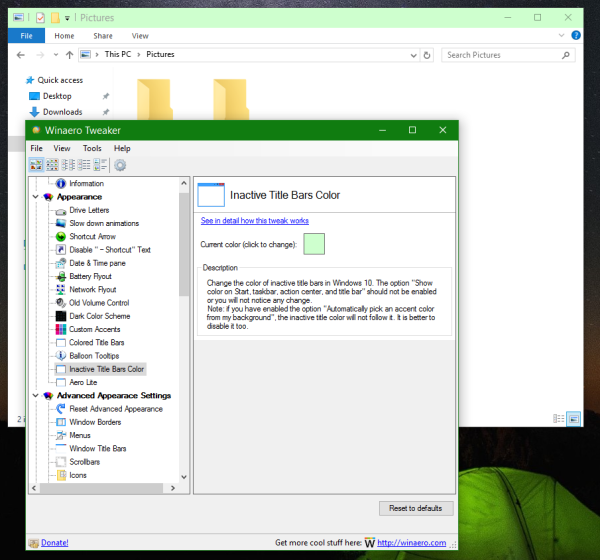 You can download Winaero Tweaker here:
That's it.
RECOMMENDED: Click here to fix Windows errors and optimize system performance