A new build of Windows 10 Creators Update found its way to the Internet. It was not released through the Insider program. Instead, it is an internal ISO image which has leaked to the internet. The leaked images contains the Enterprise edition only, like the previously leaked Windows 10 build 14997.
RECOMMENDED: Click here to fix Windows errors and optimize system performance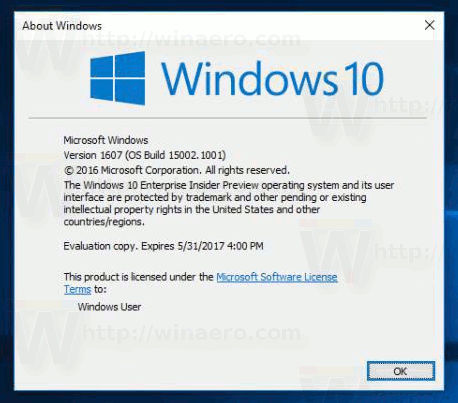 What's new in Windows 10 build 15002
To get Windows 10 Build 15002 installed, follow this simple instruction.
Download the wim file from here:
https://mega.nz/#!AtMzybxA!RvsDLb4sz-LL8ALwXLmnwqeBY04lvUbeamSTIY7Zvlo
Download any Windows 10 ISO
Open that ISO File with a tool like UltraISO
Replace the 'install.wim' in the 'sources' folder with the one you downloaded.
Boot the ISO in a Generation 2 Hyper-V virtual machine.
Install Windows like you normally would.
Due to base image limitation, you'll be unable to log in normally and stuck at the login screen. Here is a workaround.
After restarting, boot into the ISO again
Press Shift + F10 at the install screen
Type notepad
Click file
Click open
Navigate to 'C:\Windows\system32′
Delete the utilman.exe
Copy the cmd.exe and rename it to utilman.exe
Reboot into Windows.
Now, after you booted into Windows, you'll have to do the following:
Click on the utilities button in the lower right corner
The cmd will now launch
Type 'net user Administrator abc'
Type 'net user Administrator /active:YES'
Now enter 'abc' as password
You are done.
All credits go to Inside Windows.