A new cumulative update today was released for Windows 10 Creators Update. The patch KB4016240 raises the build number to 15063.250. Like all Windows 10 updates, it is cumulative and includes all previous updates. Creators Update users have to download just the latest patch, regardless of when the OS was installed.
RECOMMENDED: Click here to fix Windows errors and optimize system performance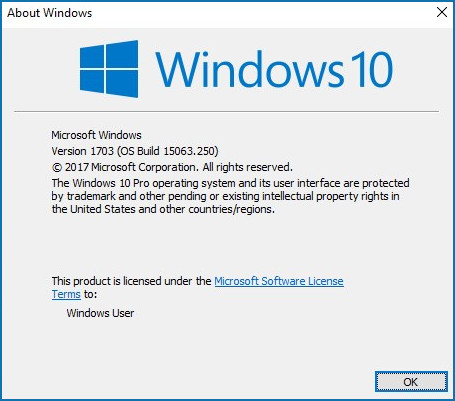 The following changes are being made with this update, according to the official change log:
Addressed issue where VMs might experience loss in network connectivity while provisioning IP addresses.
Addressed issue that does not initiate a remote ring on the device when RemoteRing Configuration Service Provider (CSP) is used.
Addressed issue where a memory leak occurs in Internet Explorer when hosting pages containing nested framesets that load cross-domain content.
Addressed issue where Internet Explorer 11 does not save JavaScript files when exporting to an MHT file.
Addressed issue that causes users to get logged out from Web applications intermittently.
Addressed issue with a very dim internal monitor that may occur when booting with the external monitor only and then switching to the built-in panel only.
Addressed issue where running Win32 Direct3D applications or games in full-screen exclusive mode causes the system to become unresponsive when resuming from Connected Standby.
Addressed issue where when upgrading to Windows 10, version 1703, with the system language set to Chinese, the progress page displays geometric shapes instead of the correct localized strings.
Addressed issue that prevents the lock screen from being disabled using Group Policy on Professional SKUs.
Addressed issue in Windows Forms configuration options, which causes antivirus applications to stop working at startup.
Addressed additional issues with compatibility, Internet Explorer, and Microsoft Edge.
The change log also states that there are no known issues for this update. If you're running Windows 10 Creators Update for some time or just upgraded to it (tip: Here is how to download ISO images), check for available updates on the Windows Update page in the Settings app. Alternatively, you can use the following direct download links.
KB4016240 direct download links (build 15063.250)
To install these files in Windows 10, please refer to the article How to install CAB and MSU updates in Windows 10.
Windows 10 build 15063 is the RTM build of Windows 10 "Creators Update" version 1703. You might be interested in reading what's new in this feature update for Windows 10, and how to disable all kinds of ads in this release.