You might have noticed that the taskbar is always transparent in Windows 8 regardless of the windows. This will show you how to disable tranparency for the taskbar in Windows 8 with two clicks.
How to disable transparency for the taskbar in Windows 8
Method 1. Simple. Recommended
Use our Opaque Taskbar software. Opaque Taskbar for Windows 8 is simple and lightweight application which can disable taskbar transparency with one click.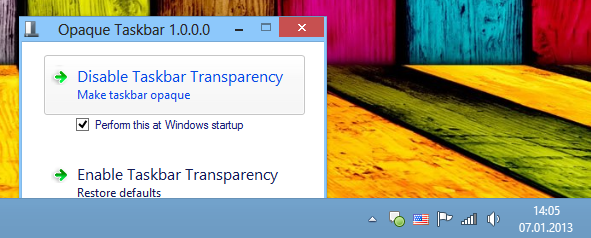 Opaque Taskbar for Windows 8 is free, portable application and does not require to be installed. It is compatible with Windows 8 x86 and Windows 8 x64. Opaque Taskbar for Windows 8 has special option to run at Windows startup and option to restore taskbar transparency.
Download Opaque Taskbar for Windows 8
Method 2
Step 1. Visit the AeroLite themepack page and download AeroLite themepack for Windows 8 RTM from there: AeroLite themepack.
Step 2. Double click on the file that you have downloaded to apply the Aero Lite theme for your Desktop.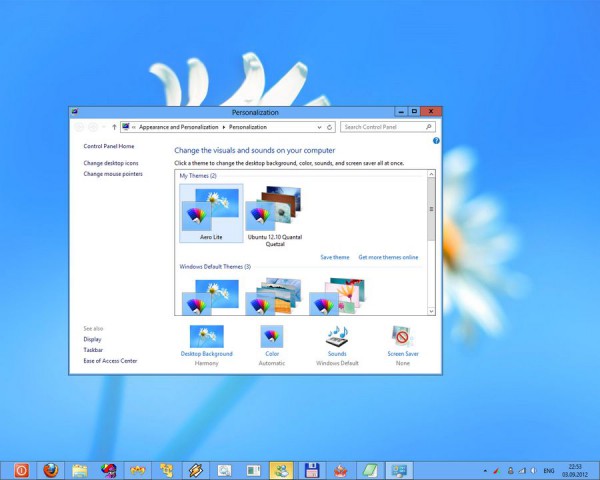 That's it. Your taskbar will be opaque.
Please keep in mind that Aero Lite theme comes with the several visible differences from the "regular" Aero theme. Titlebar buttons, selection boxes and many more items will be changed.
Thanks to our friend Vishal Gupta for sharing this tip.